The 2015 edition of Berlin Gamesweek showed that Virtual Reality continues to be a hot area of innovation for the game industry. VR was one of the main topics at the developer conference Quo Vadis, there was a strong lineup of VR showcases at the indie game festival A Maze, and the popular Gamefest even offered first-hand VR workshop experiences for the public.
Quo Vadis Virtual Reality?
The developer conference presented a variety of VR projects in the exhibition space. Crytek impressed with an Oculus Rift showcase of a dinosaur animation in a prehistoric forest environment to promote their graphic engine's upcoming VR features – an audiovisual experience that can even compete with theme park experiences in graphic design and the notion of presence.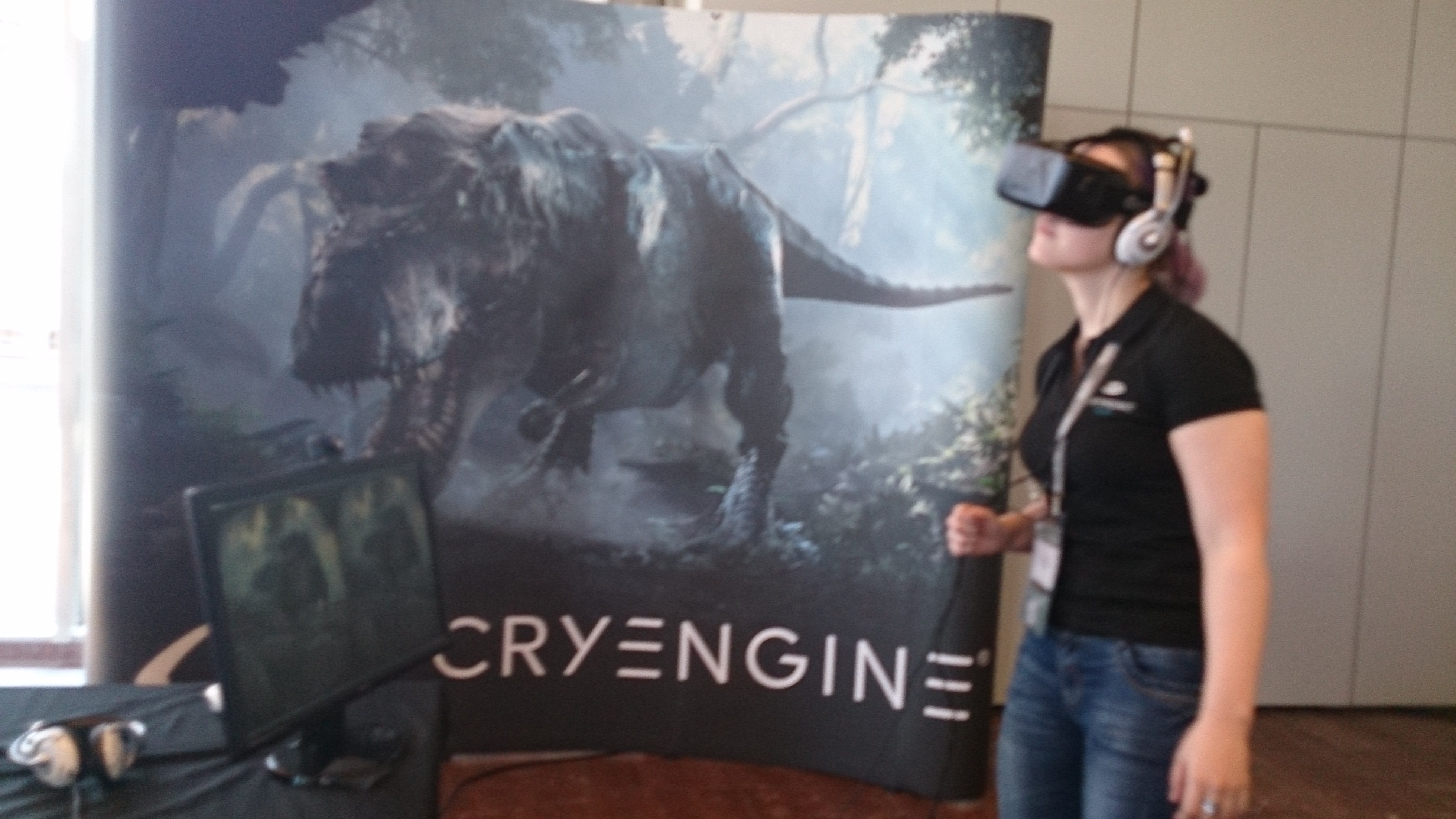 Quo Vadis: Cryengine going to picnic in Jurassic Park
The Oculus Rift DK2 was quite present on all show floors and in the lecture halls. The lectures were focused on technical issues for rendering and visual enhancements, and there were some discussions and larger panel discussions on issues like input standards as well. Mindfield Games went into details for VR graphics while VR Bits resumed on their market experiences with their flight simulator Darkfield VR. Hammer Labs showed a prototype with Leap Motion integration that could become one of the solutions to virtual world orientation. Education institutions showcased their student's works with Oculus Rift and Unity, and you could get a hand on Razer's OSVR system coming out for education and training purposes this summer.
Most developers' works were related to Mobile VR, and there were interesting alternatives to the Oculus Rift even coming from Germany: optical specialist Zeiss was there with an action-packed mobile experience on Mars, demonstrating a considerable visual quality improvement with their lenses even for mobile VR solutions.
Google's Noah Falstein participated in a series of panels explaining the company's vision of Transmogrification. In his solo lecture on the topic, he presented some research activities at Google on VR, AR and the company's notorious ability to improve on user tracking and data collecting. He also proudly pointed to Google's massive promotion success with the Cardboard VR being distributed over 500.000 times – another strong hint for the ongoing attraction of virtual reality on all levels.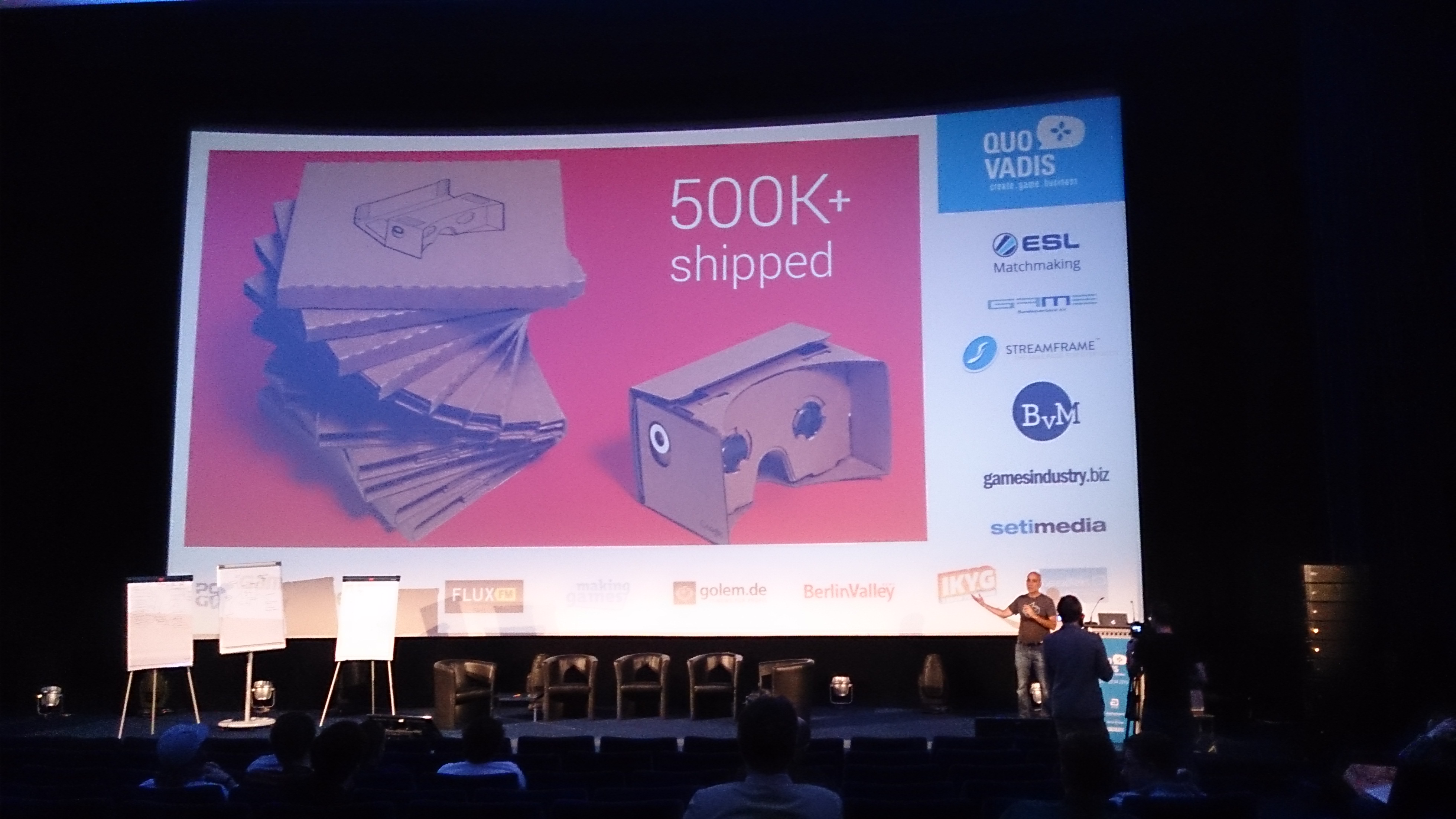 Quo Vadis: Google going to transmogrify with big data
But you don't need to look only to the US for practical solutions in paving the way for VR: in the same conference building where Google impressed with big user numbers, a small German company from Potsdam set up a little table to showcase their version of low-cost VR. Refugio3D is based on the same concept as Google's cardboard, offering a much better visual experience with lenses serving even for shortsighted people without wearing their original glasses, made wearable with head straps to get rid of using your hands for device upholding – and all this on the market at comparable price prior to Google's success story, since 2013. Why look so far afield when there is so much close at hand?
Virtual Reality for Everyone
Whoever had 4 Euros at hand could experience actual developments with virtual reality easily at the Independent video game festival A Maze in Berlin's Urban Spree. Open to the public, you were amazed by the creativity and experimental engagement of upcoming video game artists – and about the fact that more than half of the works there were related to VR, mostly Oculus Rift.
You could travel to the deep sea by using breathtaking input devices or embark for a space odyssey on a meditative ride through fractal environments. You could paddle through rivers and lakes against the wind in an installation combining PS3 move controllers with Oculus Rift and smart ventilators, or you could time travel back to school where you sit in a classroom distracting your schoolmates while the teacher is having an eye on you.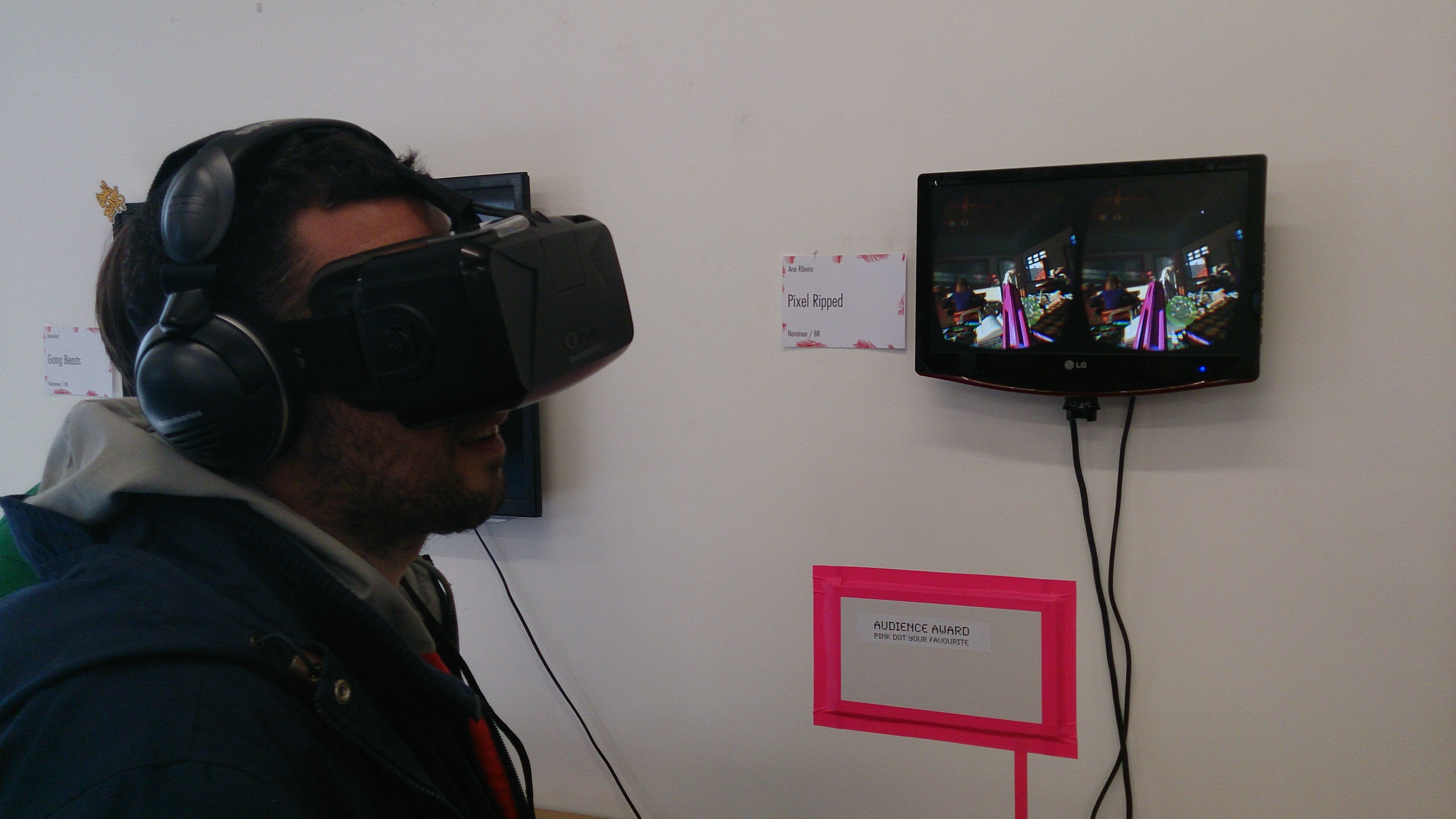 A Maze: going back to school with 'Pixel Rift'
Obviously, Indies love the Oculus Rift, and they know what to do with the new possibilities: A Maze definitely is the leading platform for experimental media art in our arty city!
The Computerspielemuseum also presented access to VR technology by offering a workshop with Oculus Rift programming for everyone, motivating for the creation of more VR experiences – homemade, artful and exciting!