Berlin's annual festival of playful interactive media got a special spot in this year's event calendar. While other interactive media events did not make it into 2023, like canceled E3 for professionals or sunken Berlin Games Week for the public, A Maze expanded on several platforms for more performance oriented topics. The core event took place at the Silent Green cultural center with the game exhibition, award show, lectures, and performances live on stage. The main stage events were broadcasted on a Twitch channel. The exhibition could also be visited virtually via desktop or VR in the digital twin Amaze Space. Parties were celebrated in the Panke club, close to the main venue, or at meetups in the festival's virtual venue on VRChat.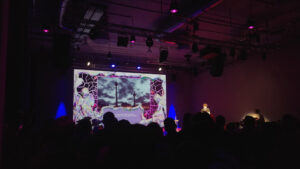 A great deal of the festival's experience exchanges still caught up with the pandemic consequences, partly because many works were created under pandemic conditions, partly because the festival and performance sector was especially hit by restrictions before. The exhibition space also offered special opening hours for visitors with mask preferences. The main venue also presented a newly installed fair ground for companies, institutions, and suppliers with demo installations and booths, in close relation to the exhibited works and topics.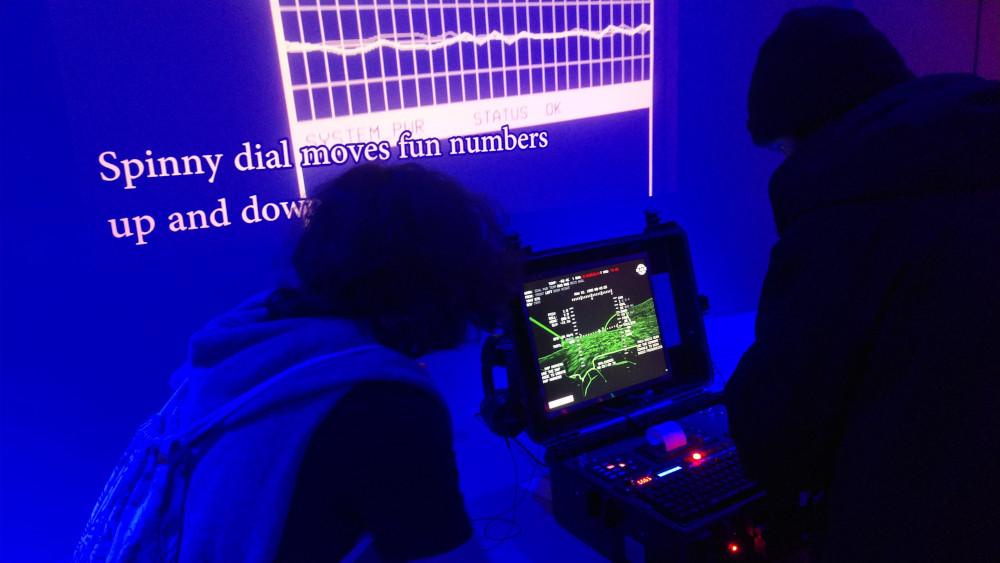 A Maze continued its tradition of celebrating gaming culture with experimental and innovative approaches to interactive media. A CAVE installation showcased an immersive panoramic walking simulator. Another installation motivated audience participation through mobile devices for a political role-playing quiz game. A serious game used touch and sound devices for a more psychological concept of game interaction. A car racing simulator played with AI and real player cooperation scenarios. And the performances on stage combined music and theatrical storytelling with gameplay elements or artistic repurposing of hacked devices.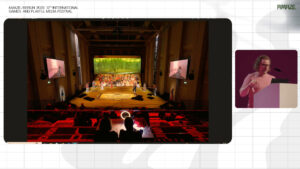 But this year's festival edition had a noticeable presence of performance related topics in the program, most notably coming from more traditional stage environments like opera, dance, or theater. Classical performance artists and opera directors reflected on their experiences with integrating game elements into their stage design and into the theatrical working process. Dance collectives presented experiments using virtual reality for physical body awareness through digital communication live on stage. Theater institutions summed up their efforts with expanding the traditional stage presence into regular web presence and performance streaming.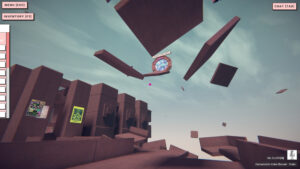 The festival itself already disposes of quite some experiences with hybrid event organization and how this can be used to overcome critical times. But the necessity of setting up alternative presentation channels in the real and in the virtual realm results more in a parallelized coexistence than in a constructive intersection, up to now. The gaming culture proudly achieves recognition from the domain of high culture, while traditional performance arts stretch out for younger audiences. Both areas rely on public funding. Their actual strive for expansion could equally be seen as a reinforced contraction, especially in times of diminishing attraction and resources.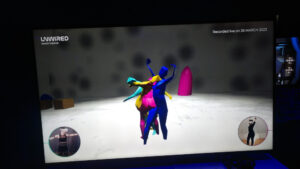 The award-winning Metamovie experience demonstrated how virtual reality can be used for systematically combining live performance, interactive storytelling, streaming, and audience participation on several levels and devices, from social VR to computer screens, mobiles, and text chats. Going beyond the hybrid channeling of traditional art spaces, this emerging performance platform represents more than the recombination of its multimedia parts: it shifts the event horizon.