Trending technologies at this year's European consumer electronic show IFA were AI, 8K and 5G – all a bit fuzzy in terms of definition, marketing lingo and rather scetchy future perspectives. VR was not in the focus, but still served as an innovation booster for brand polishing. Some new players showed up in the XR space, mostly related to sound developments. Immersion now goes for easy listening mode. Check it out!
Sound & Space at IFA Summit
IFA Summit dedicated a whole afternoon to the subject of 'Experience' with lectures on space design and sound developments. An academic introduction reconnected the digital realm back to the physical domain and presented kinetic art installations from Art+Com, exemplifying this interpenetration in conceptual space design.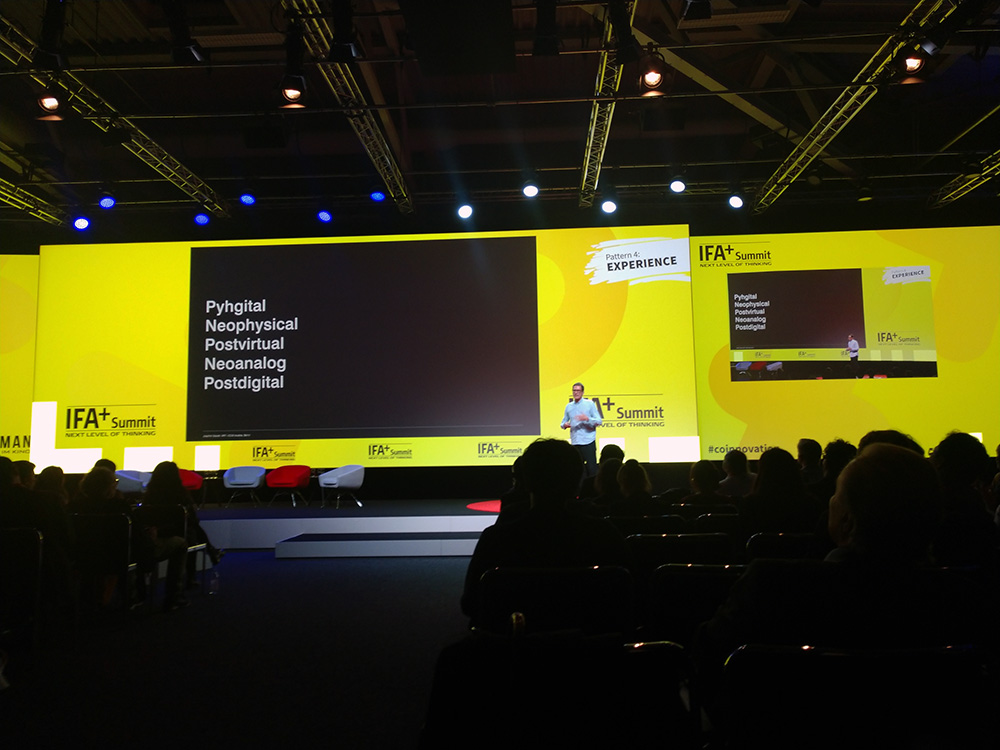 A series of lectures focussed on audio aspects of virtual relationships. The scope of presentations started with Sennheiser's immersive audio technology, went on to general research studies for virtual sound perception and ended with design strategies and awareness modelling for chat-bot communications in call centers. The session concluded with a lecture on space design in XR going from art experiences to business applications while giving a somewhat retrospective overview of the range of headsets on the market.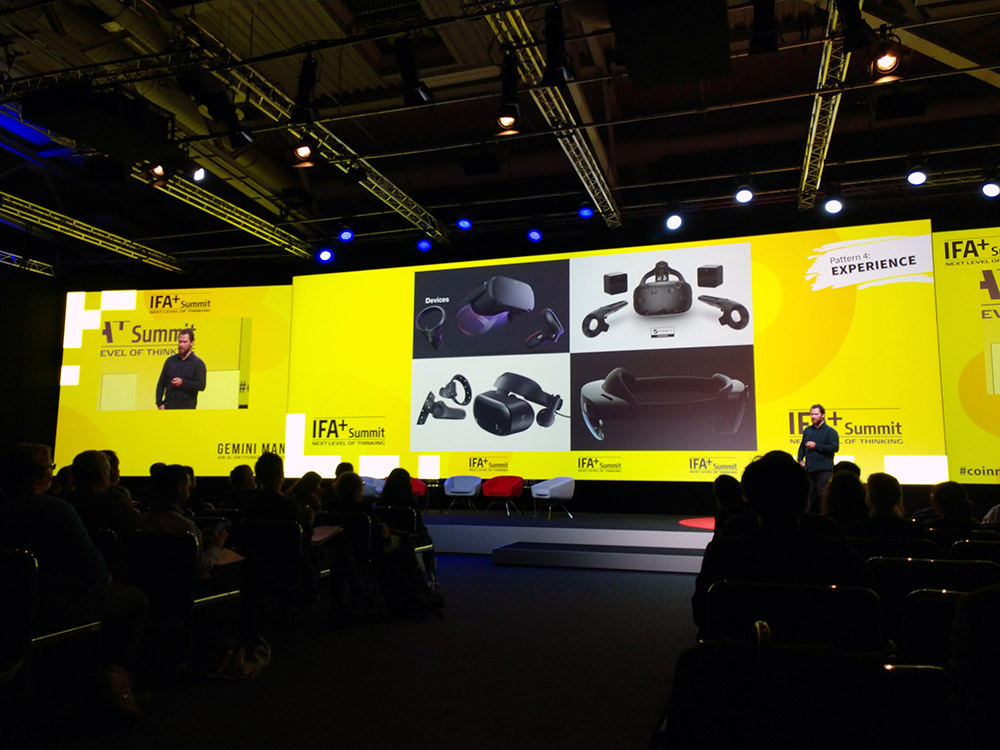 'Experience' tried to expand VR and XR beyond the visual aspects to more common conceptions of space and sound with highly interesting case studies. The conclusive panel could enrich the understanding of XR as audio-spatial experience, but risked to fall apart in special interests instead of providing a common ground for more consumer related narrative constructions.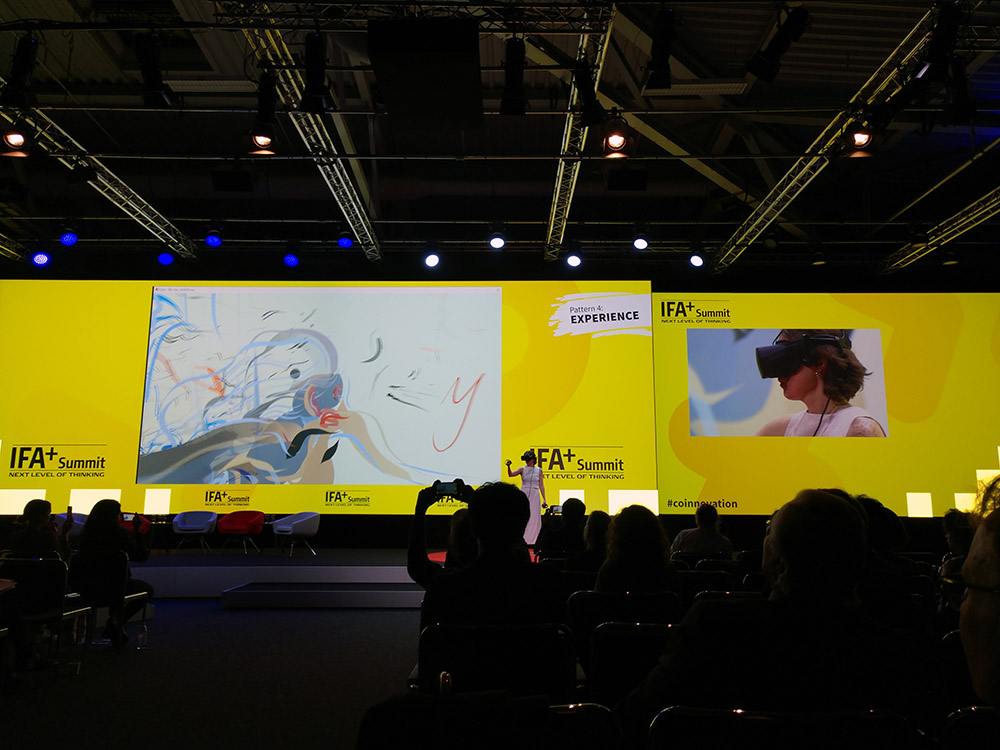 The visual aspects of VR came back into play with a highly impressive art performance, where an immersive 3D art environment was created live on stage by means of a VR painting application.
Clearly audible XR at IFA Next
In terms of VR and XR, IFA's innovation area served as a sound stage for audio developments. You could try Sennheiser's impressive Ambeo system for interactive virtual sound modelling with a Magic Leap headset.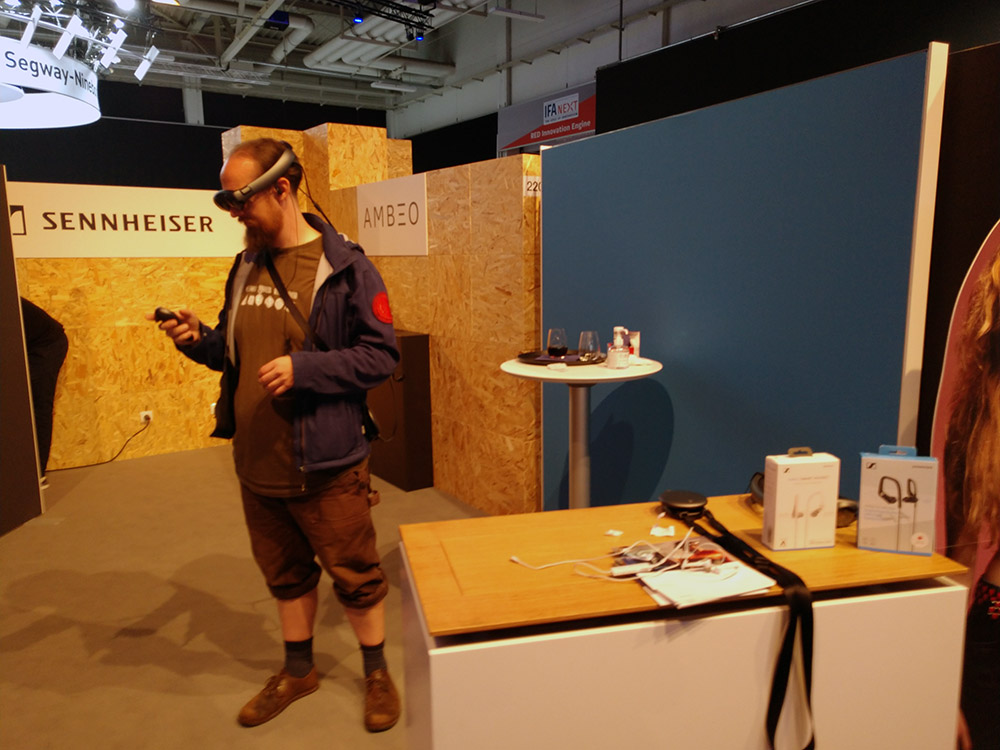 A Berlin Start-up presented a Feelbelt equipped with a range of audio speakers stimulating your skin with haptic sensations of audio tracks. And IFA Next innovation partner Japan showed a holographic speaker sound system, able to pinpoint a sound exactly onto a specific location in real space, rendering possible virtual tracking spaces without wearing audio headsets anymore.
Barely visible XR on the show floor
There were no new VR headsets shown at this year's IFA. Acer canceled the Ojo presentation, and Vive Cosmos was announced only on the internet but not at the show. Despite of the lack of new products on the show floor, VR still seems to attract consumer awareness for marketing campaigns: Deutsche Telekom used Lenovo's Mirage Daydream VR headsets to promote upcoming 5G services. Unfortunately, the VR videos were not streamed in 5G, yet. But the telecommunication provider presented a fabulous volumetric video with the popular band Die Fantastischen Vier, folded into a promotional Cardboard VR set for collectors and fans.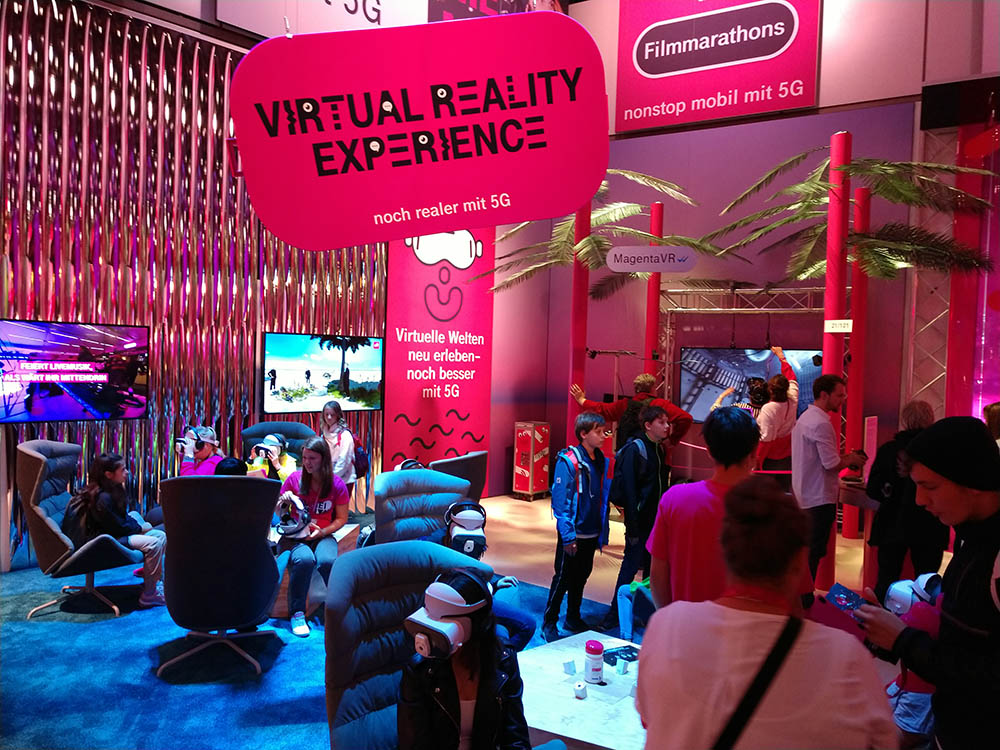 Lenovo also made an impact with VR on it's own booth. They presented the design features of the Oculus Rift S as being made by Lenovo, but only on display. And Lenovo introduced the next iteration of their smartphone AR entertainment system, that started with Star Wars light sabers last year.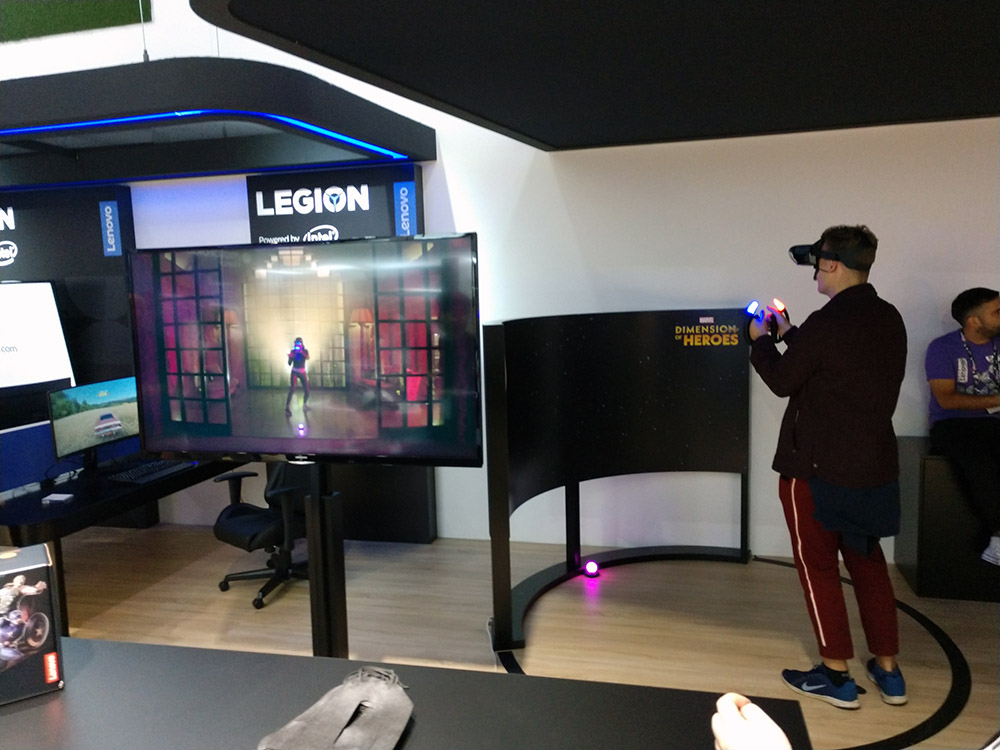 Now, you can use two tracked controllers with more control options, play together with a friend in a local tracking space – and apart from the Star Wars theme, you can now blend Marvel's world of super heroes into your living room. The immersive toy system heavily relies on these Disney franchises and seems to go for an annual update of the whole platform. Given the difference in tracking capabilities and the remarkable price drop of last year's version, the actualized version is a complete replacement package of the old one.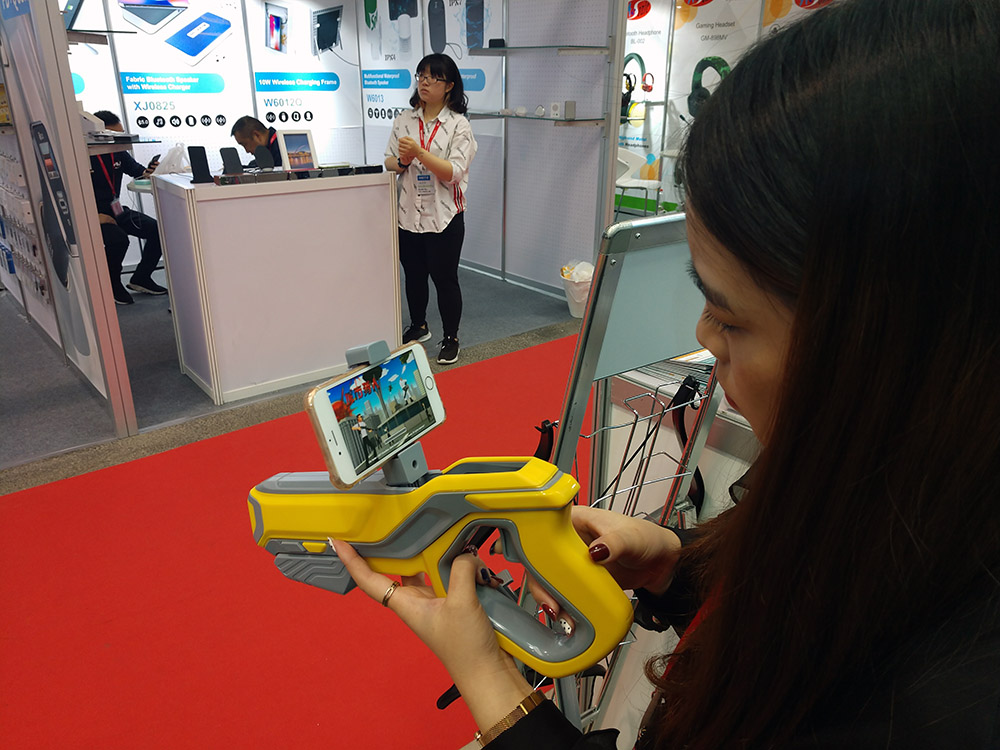 Apart from some display suppliers, I could not see any VR headsets on IFA Global Markets. But if you like to go for a cheaper AR smartphone toy system than the one from Lenovo, you may connect your smartphone with simple but effective plastic guns from Shenzen for a shoot out.
Open audition for a sound show
This year's IFA explored some special areas in immersive consumer technology with exciting sound applications. But the show missed to serve as a multiplication platform for new VR headset presentations. I did not see a single Oculus Quest on the show floor. Some booths still used Gear VR instead of Oculus Go. Sony did not show any PlayStation VR this year. HTC launched their new VR headset apart from the show, although the Vive Cosmos specifically aims at a consumer audience.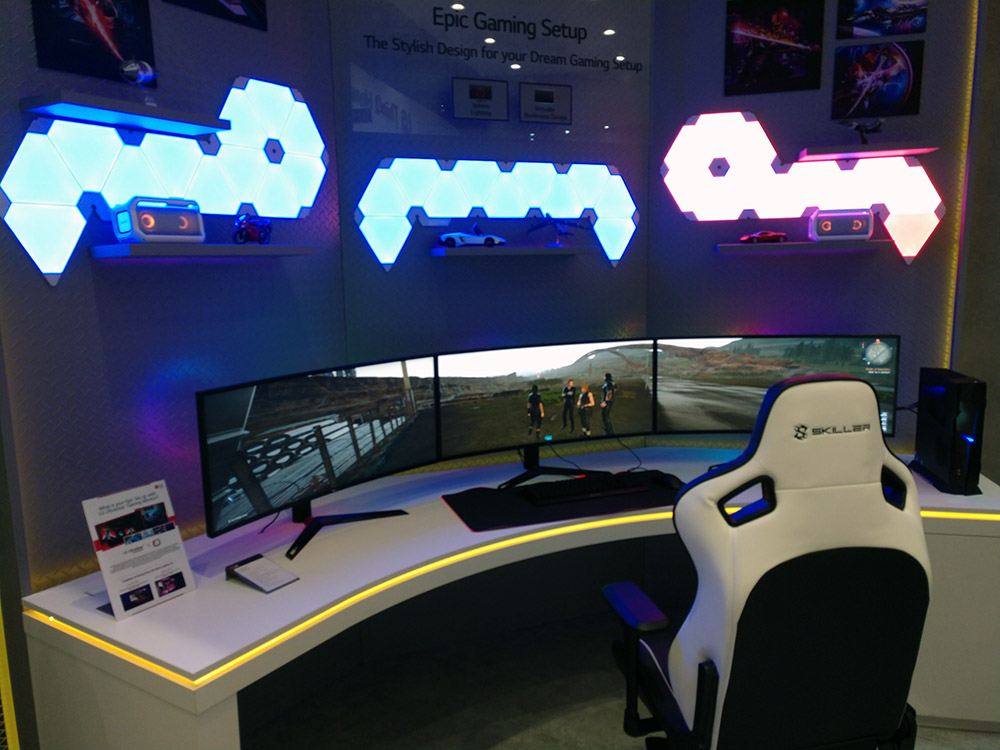 After CeBIT's failure and Gamescom's dissapointing impact for VR in the gaming area, the biggest consumer technology trade show in Europe IFA could not deliver a better marketing environment for VR and immersive entertainment, neither. Traditional trade shows seem to have reached a limit in connecting consumers to immersive innovation trends, just like traditional retailers struggle to promote VR to the consumers. They either have to reconsider their presentation strategy for this challenging new dimension, or VR players will have to look out for promotion platforms that better suit their communication needs.
all images © 2019 Jochen Schmidt