Last year's digital E3 accumulated a collection of streamed video game publications to conserve the annual presentation window through pandemic conditions. This year, the publisher streams spoke for themselves without the support of an overarching business platform. The promotion cycle could be maintained with a constant flow of game announcements for immediate summer release, previews for the holiday season's sales peak and appetizers of major releases in the following year. But the product display reflected a strong tendency to feature sci-fi horror themes, as if the industry gets attuned to a dark future.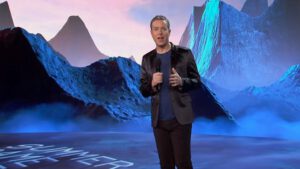 Starting with the Summer Game Fest, the digital promotion framework went from sidekick of an industry event to its replacement in the form of a consumer showcase. The main attractions were AAA game productions that all mashed up science-fiction settings with horror ambiance and physical action gameplay in the tradition of the Dead Space series. This proclivity for bloody disembodiment, gore and juicy splatter effects in dark futuristic environments continued throughout the promotion week, up until a H.R.Giger-inspired action game during the closing PC Gaming show.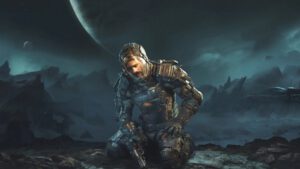 This flow of existential sci-fi horror tropes was flanked by the newest update of No Man's Land during PlayStation's State of Play and the Xbox Games Showcase with gameplay footage from their competitive open sci-fi world of Starfield. All these futuristic game worlds centered around survival in hostile environments, some more gory than others. Coincidentally, they all seemed to align with the darkening of the industry's pandemic heydays, and the growth strategies that were built upon them.
Sony's hardware sales expectations are hampered by supply chain problems, Xbox's subscription futures are obscured by the cloud of inflationary streaming wars. PC's ray-tracing brilliance haltingly propels a generational leap without affordable system upgrades. They all struggle with more severe production delays in remote working pipelines than the first year of the pandemic disclosed. And they all face an upcoming recession scenario while actual money influxes trickle away. These ongoing struggles for industrial augmentation now echo the recently divisive cross-platform release of Cyberpunk 2077 on a general level.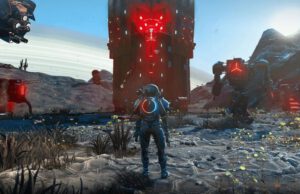 At least, consumer demand remains strong and may do so in the future. Sony dedicated half of its promotion show to content announcements for the PSVR2, featuring VR as an option for hybrid gaming on PlayStation5. Following previous sales experiences, this conservative add-on approach builds on a conversion ratio of 5-10% of PlayStation owners (PS4VR sold to 5%, PS4 RE7 sold to 10%, MSFS sold to 10% on PC). But crossover marketing can have unpredictable outcomes: Bethesda's Starfield subscription also promoted sales peaks of hybrid No Man's Land on Steam…
Without a proper and adequate presentation platform for gaming VR in sight, Upload VR's Showcase had a better standing among the individual streaming presentations than in the former bundle stream of E3. The restriction to a screen-orientated presentation framework and the continuous testing of mobile monetization models on standalone headsets let the VR segment appear in creative stagnation. Innovative VR handling cannot be demonstrated under these promotion and business circumstances. This consolidation process was confirmed with impressive gameplay footage of an upcoming polished mod for Half-Life: Alyx during the PC Gaming Show: sidestepping instead of progression.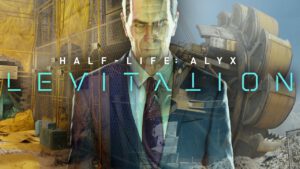 A presentation framework limited to video streams not only handicaps VR progress in the gaming segment. It is also problematic for demonstrating the game industry's core competency, which is gameplay and interactivity. Many shiny trailer promotions turned out to rest on rather conventional top-down, isometric 2.5D or even flatter game mechanics when their playable demos became available during Steam's Next Fest right after the 3D animation bonanza. New marketing players like Netflix or Amazon Prime only reinforce this tendency, without contributing to the game industry's structural development.
If Dead Space is trending as the proposed way to go, then the digital physicality of the original game series provides more illumination for interactivity and immersive gameplay than repetitive cinematic promotions of a dark future.