Gamescom displayed different states of VR on various levels in separated areas on the fairgrounds. A planned 'XR Boulevard' did not materialize. Devcom offered a glimpse into the future, SPOBIS stuck to flat games promotion, Gamescom-Congress got stuck in funding uncertainties. Nevertheless, by putting together all scattered pieces from all trade areas, this year's Gamescom served as an indicator for a VR market consolidation – and for a turn from technology to content domination.
Portfolio Promotion in the Business Area
Business area was the most vivid and noticable space where VR was shown. Content producers and their promotion agencies had organized joint showcases for trade visitors and the media. Vertigo Games offered demo slots along with Tripwire Interactive, and Survios cooperated with Resolution Games and other VR companies in a business booth. As demo slots had been bundled, industry professionals could experience a whole range of productions on a few well organized locations. All demos on site offered impressively high quality, solid experiences and recognizable themes across various VR platforms.
Vertigo Games continued their successful Arizona Sunshine zombie shooter with The Damned, a highly enjoyable DLC prequel. They also presented LBE versions of the core game and introduced a new cooperative survival shooter for all platforms with After the Fall. Building up on A Fisherman's Tale's multi-dimensional puzzle structure, The Corisair's Curse now expands this gameplay for cooperative family friendly LBE experiences. All demos were well polished, worked smoothly with very accessible game flows, and demonstrated the continuous progress in their experience design on multiple platforms.
Tripwire Interactive introduced a new IP from developer Digital Lode with stealth oriented Espire 1: VR Operative. The game puts you in the shoes of a remote controlled virtual agent for missions impossibles in variable comfort modes. This embodiment for hide&hit-actions works intuitively on PC headsets, and even on a low performance platform like the Oculus Quest.
Survios presented the rather palpable zombie slasher The Walking Dead: Onslaught in the VR Games Showcase booth. On the public trade floor, they premiered an LBE experience based on another iconic TV series with Westworld Awakening, where you slip into the role of a simulated robot host in a highly detailed thriller environment. They also showed off their upcoming pirate-themed multiplayer Battlewake in the entertainment area. All providing us with recognizably popular themes and reliably solid game crafting.
The other participants in the VR Games Showcase booth mainly came from Scandinavia: Budget Cuts got a sequel named Budget Cuts 2, a loyal continuation of the beloved Indie stealth adventure, adding more difficulties with challenging weapon mechanics and out-of-office environments to the original success story.
Down the rabbit hole is a charming realisation of popular Wonderland icons in a literally descending move down into Alice's dollhouse world, an intriguing adventure for VR beginners that looks and plays wonderfully in a Quest or in PC headsets. The Curious Tale of the Stolen Pets also invites a young and inquisitive audience to handle a tiny pivotable VR world, filled with magic puzzles and mysterious connection mechanics.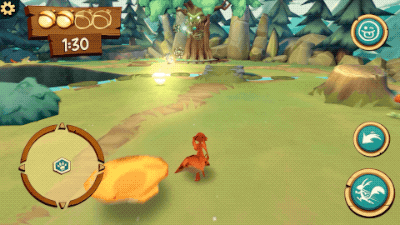 images © Resolution Games
Resolution Games showcased an exciting party game for up to 8 mobile players centered around one VR player. Acron: the Attack of the Squirrels is a great asynchronous multiplayer fun experience. You either play one of the squirrels on mobile trying to snap away golden acorns from a tree, or you play the tree in a VR headset trying to get back the acorns from all the attacking squirrels around you. The game works as a local multiplayer platform built around the VR player who invites the mobile squirrels to his world. The gameplay is highly dynamic, very physical for the tree player in VR, very strategical for the squirrel band on the mobile screens. You cannot stop playing another round, once you started your learning process by switching roles between the platforms. In terms of gameplay, dynamics, replay value and variability this party game is poised to become a big hit – provided the tricky marketing challenge can be mastered to gather enough players for giving it a try.
Corporate Drifters in the Entertainment Area
In the public entertainment area, VR was less concentrated and therefore not easy to find. HTC Vive presented a range of VR games at various partner booths, mostly performed with Vive Pro headsets, but they did not have an attraction platform on their own.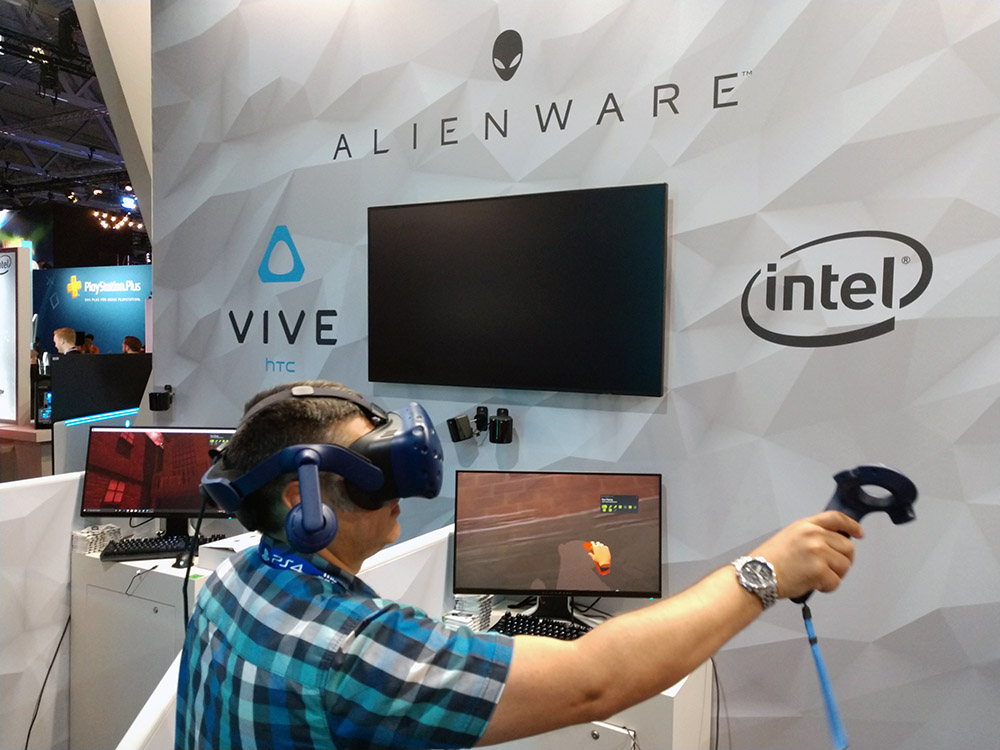 Oculus now looks completely integrated into the Facebook Gaming booth, where you could see two (2) encaged Quest demos with Beat Saber on display – only. Quest was the only new gaming platform on the show this year, together with the upcoming cloud streaming services. Chances were good to make this product shine before we all start talking about next-gen consoles in 2020. But I only saw a missed opportunity, even if the product itself knew to impress in all area demos. Facebook seems to be eager to overcome a strategic misconception by turning to AR, just in a moment when their previous VR engagement could hit solid grounds…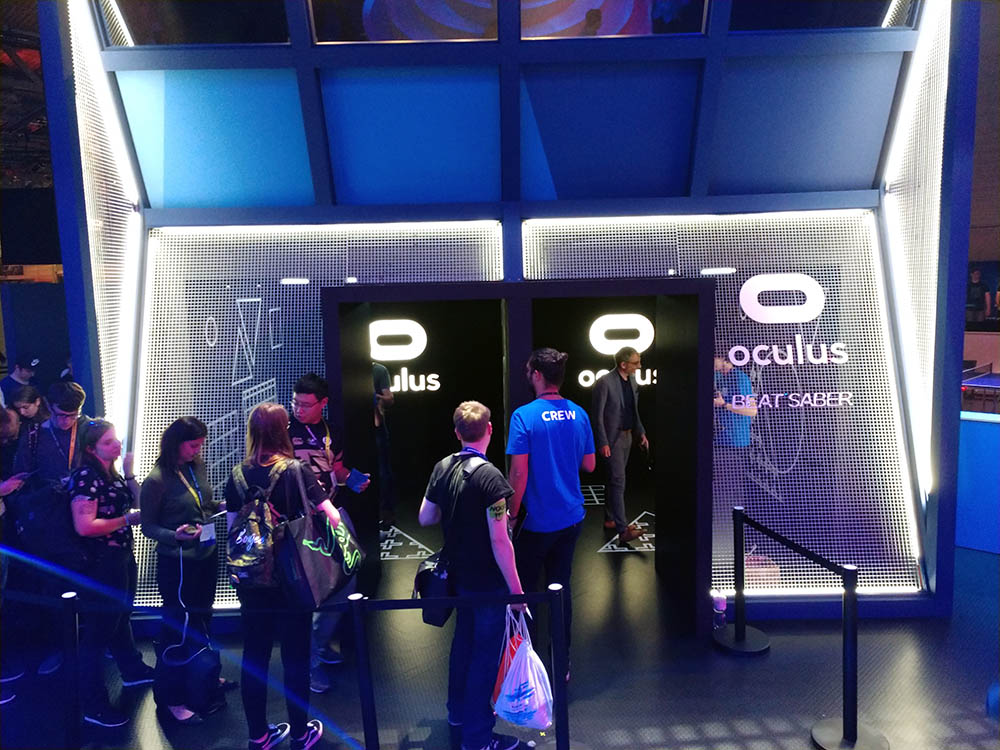 While Oculus/Facebook gave up on second console competition before it even began, and Nintendo switched away their joyful Labo VR in a no-show, the floor was left to Sony to shine. And Sony knows how to keep a cycle-ending console attractive: with Virtual Reality – and Kojima staging at the opening show, for real.
Iron Man VR had a great floor space in the Sony hall, and the game impressed with technology features and design twists that managed to overcome PSVR's well known disadvantages in tracking quality. Playing with Move controls, you put on the virtual iron man suit. Steering with your virtual rocket hands, you fly around 360° without tracking issues, although the system only disposes of a single front camera. Tracking and movements are fit for full turns on the spot. The drifting is highly intuitive and easy to manage, shooting is accurate and physicality matches with gameplay actions. This is a system breakthrough!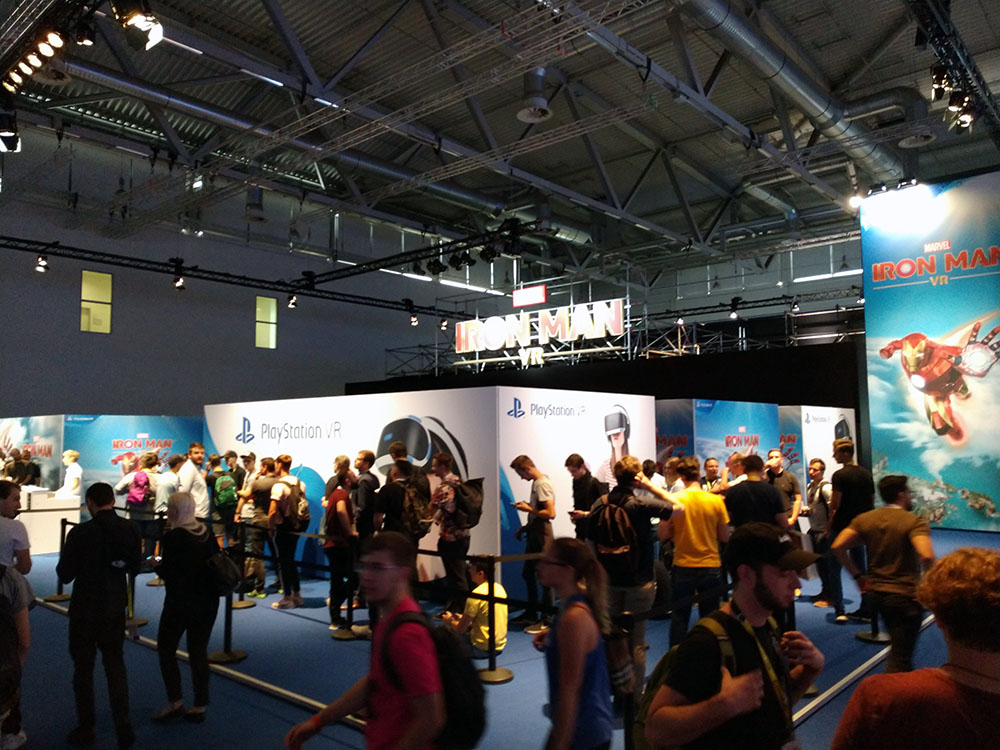 While Iron Man VR can attract action-oriented movie gamers to the VR platform, Sony also presented another film-themed VR game with Groundhog Day: Like Father like Son. This escape room puzzle adventure appeals more to VR beginners, and to serial players! But it is worth noticing that Sony now brings their film production departments to PSVR. This means quite a step into the opposite direction of Facebook's actual desintegration of Oculus VR into corporate information displays.
Walking Simulators on the Show Floor
Many consumers still associate VR experiences to motion sickness. While the game developers now have a better understanding of comfort design, the hardware industry also offers products to make VR more viable.
3D-Rudder connects gaming movements and joystick inputs to a rotating platform for your feet while experiencing VR in a seating mode. The controller device takes care of your movements in the virtual environment according to your feets' rotation angles. 3D-Rudder provides a movement option that lies in between physical and artificial locomotion: you can use your feet on the spot instead of using control buttons with your hands. The result is an intuitive gliding performance that frees your hands, indeed, but you will have to get used to a new form of locomotion that is neither natural nor artificial alone.
Cybershoes tries to maintain the natural walking movement by attaching skater-like rollers under your shoes. The walking movement on the spot corresponds with your walking in the virtual environment. This comes closer to natural walking behavior, but for rotation you have to be seated on a swivel chair. And walking in Cybershoes also means excercising your legs – for real!
Flat worlds in the Indie Arena
Indie Arena expanded from a big booth to an entire hall. Whereas in previous years, VR was mostly driven by independent developers, this newly expanded Indie Arena only displayed one single VR production this year.
We seem to leave an experimental stage now in VR development for more solid consumer offerings. Some independent VR companies set up their booth directly in the entertainment area, like Viro Move, a VR fitness rythm challenge combining Beat Saber success elements with rythmic shoot-outs, locomotion on the spot and occasional jump-scares (in fitness terms).
The only VR showcase left in the Indie Arena also points into that direction: VR Giant is a remarkable one-man-development effort for two players in the same game world, one playing a giant in VR, the other a dwarf on the flatscreen – only mutual cooperation can overcome the physical challenges.
If you compare this ambitious double-featured individual production to a well-tested, rock solid, platform-overarching, family appealing, service oriented industrial party hit like Acron: The Attack of the Squirrels, you can see where actual VR development is leaping to – and where it originally took off.
Sony's Iron Man VR also ows to single developer gem Lander 8009, and Survios' promising Battlewake directly copied the entire gameplay from little indie hit Furious Seas. If the pipeline between creativity and solidity in VR production disconnects for either side, the industral or the independent one, we may experience a far bigger wasteland than this year's expanded Indie Arena for VR in the near future.
Backstage planning for fair grounds
Innovation was none at this year's Gamescom. But consumers now get well working technologies for acceptable prices with totally solid and well crafted content offers. This year's Gamescom clearly indicated a consolidation of VR productivity.
While content production matures, all big players now seem to stand at the sidelines: former mover Oculus retreats, market leader Sony operates 'just good enough', Nintendo shying away and cloud streamers not ready, yet. Will content studios take over and become the next movers for the VR gaming segment?
A common ground for tech marketing, content production and platform communication will be vital for continuous growth in VR – and this has to be shown to the consumers! Despite all the many activities on this year's fair ground, the world's leading consumer game show in Europe could not yet provide this level playing field.
All images © 2019 Jochen Schmidt (unless otherwise specified)