Gamescom 2023, Germany's annual gaming event, grappled with a series of contradictions on multiple fronts. It spotlighted the disparity between Germany being one of the world's largest gaming consumer markets and the comparatively modest economic impact of the German game industry. This incongruity took center stage amid a flurry of political debates. The stark contrast between the event's branding of innovation and the latest offerings on the show floor became impossible to overlook. Furthermore, the post-pandemic surge in attendance failed to align with a substantial resurgence in interest.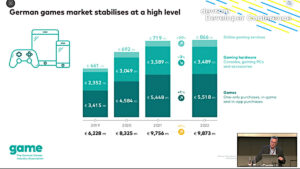 As political efforts to support the local industry encountered obstacles, this year's Gamescom seized the opportunity to advocate for increased funding through political participation. The previously secondary Gamescom Congress, a political companion to the gaming celebration, suddenly occupied a central role. The Secretary of Trade and Industry for Germany inaugurated the event, and national as well as regional politicians engaged in debates on stage. However, these discussions largely devolved into ritualistic repetitions without meaningful progress. Even worse, politics appeared to subordinate the funding perspective to traditional industry frameworks.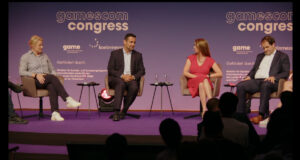 Despite economic regression, the convention fervently positioned the gaming industry as a thriving force driving digital transformation and AI. This narrative was echoed not only by politicians but also by the Gamescom advertising campaign. VR headsets, particularly prominent on Gamescom posters and celebrities' heads, symbolized a dynamic future for media. Paradoxically, the Entertainment Area lacked major VR players. Sony was notably absent, Meta chose not to feature a VR booth, and Pico discontinued its presence from the previous year. Evidently, the VR consumer industry showed little interest in engaging potential new customers. The promotional impact of the fair fell short of justifying investment in booth space.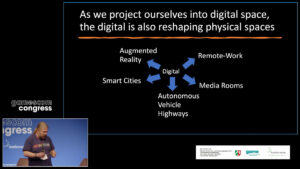 Demos of VR games were accessible in the Business Area, primarily comprising indie games with upcoming release dates. VR gaming continues to explore a winning formula through hybrid games and immersive reinterpretations of classics. Notably, Fast Travel Games is endeavoring to rejuvenate Vampire: The Masquerade by infusing traditional stealth mechanics with mordacious gameplay elements. The Future Games Show featured a segment showcasing VR game trailers as part of Gamescom's online offerings. Apart from that, VR marketing bites the dust.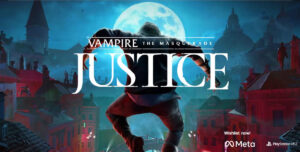 With attendance nearly matching pre-pandemic levels, Gamescom continues to captivate a massive audience by celebrating gaming. Nevertheless, the absence of key industry players must be counterbalanced by non-endemic brands seeking to engage the gaming community, even if it comes at the expense of substantial gaming content. This year's exposition underscored disparities between perception and reality, politics and innovation, and game marketing and VR integration. Unless concerted efforts are undertaken from all sides, the event risks losing its common ground.