Berlin's annual art festival for indie games and playful media came back in a triple package this year: lectures and workshops were accessible online in streams and on meeting platforms, the game exposition could be visited with your flamingo avatar in the multiplayer online world of A Maze Space, and an onsite event in Berlin featured a display of installations as well as a celebration party in real life.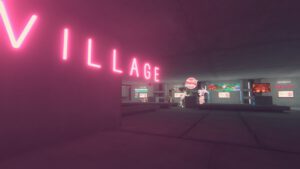 For those with access to the local event on the final day of the festival week, the transition from online to onsite space was rather intriguing. The brutalist style of the exposition environment reflected exactly the ambiance of the A Maze Space with grayish concrete walls and pink lighting. The lecture hall, cinema, merch shop and exposition space were nearly identical in both worlds, although the already established digital twin may have been the blueprint for the choice and design of the real location this time.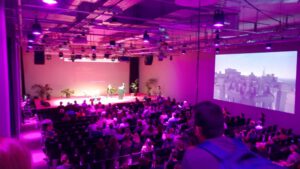 While the online exposition offered information links for the interactive art works and downloadable demos for playthroughs at home, the onsite exposition focused on spatial computing and haptics. Cooperative VR installations, body tracking experiences and palpable puzzle objects recombined the physical with the virtual through social presence.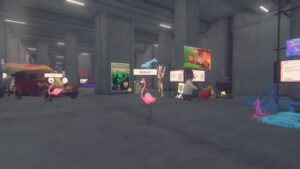 Given the uncertainty for event planning due to ongoing COVID restrictions before the reopening of the festival, many aspects of the program reflected a process of reassurance under actual event conditions. The real space cinema showed retrospective streams of former online presentations in a now reestablished showcase of a post-pandemic situation.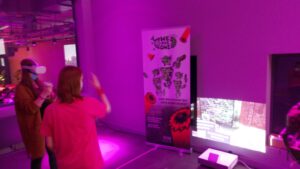 The online streaming program mostly continued themes that already came up during the former online editions of the festival, like gamified cooking and audience participation shows or intercultural representations of games from South-East Asia and Africa. The workshop program continued to give a helping hand for funding projects, and the online Art Bazaar facilitated project cooperations. The hackathon program moved from former spatial audio experiments for VR music sessions to AR app design for museum and exposition displays.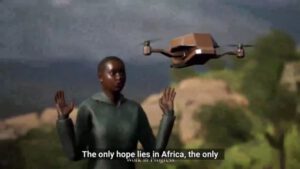 Only the performing arts and interactive theatre segment could not yet reenter the stage as before. There was no performance space online nor IRL for a regular staging. Some lectures reflected on this problem by describing their efforts in adopting alternative production strategies to transform stage design into multiplayer online experiences.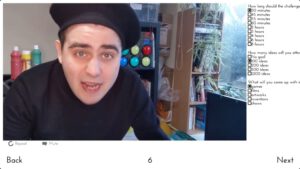 This year's A Maze was a space experience on all levels. Many games dealt with environmental topics. The real and digital twin spaces expanded on each other. VR crossed platforms and display dimensions. Museums looked out for augmented attractions. The playful media event took place between a recap of lost stages and the reconquering of ready-made grounds. The festival's space-time allowed for travelling from the virtual past into a hybrid present, for this transitory moment and for a future unknown.