Besides UHD and HDR television and smart home applications, Virtual Reality was a major trend at this year's IFA in Berlin. You could visit all major players in consumer VR on the show floor, see a lot of VR marketing events at individual booths, listen to hardware manufacturer's keynote speeches on VR or attend lectures and panels on the subject at the IFA summit.
Two main insights were striking out for me: there is a big diverge between Mobile VR and Premium Home Entertainment, where the first one was more present at the show floors and the second one more in the focus of the professional gatherings; and there is a lack of continuity in comparison to last year's IFA's serious games applications. This year in Berlin, VR was all about entertainment.
Mobile VR: show stopper, show flopper
You could find mobile VR headsets all around the show floors. No matter if you went to entertainment technology, home appliances, research and development or digital services: there were large amounts of smartphone holders for VR applications everywhere. Some you could buy directly at the trade show, some were to be ordered in thousands from Asian suppliers to even start deal-making in the 'Global Markets' section, some were simple attractions to get visitors to the booth. There was rarely a thematic connection between the booth product display and the respective mobile VR application. VR was simply used as a show stopper everywhere!
The most obvious and most impressive location-based VR marketing event could be seen, entered and experienced at the Samsung Hall. The Coreen mobile giant promoted the new edition of Gear VR together with the somewhat explosive Galaxy 7 smartphone by setting up a whole theme park of VR attractions. You had the choice between the thrills of mountain biking, river boating, roller coaster loopings and bungee jumping – all realized for serial installations with motion platforms and Gear VR video applications. The effort was enormous; more than 50 people could be served at the same time, lining up in the waiting queues, passing through the 5-minute attractions like in a Disney park. It was most impressive, and the crowd really enjoyed the fun.
The Samsung Gear VR Themepark at the CityCube Hall
All Samsung installations combined panoramic video footage on Gear VR headsets with rather accurate 3D and 4D motion platforms, where you could sit and enjoy the rumble while looking around in the video world. The attractions were certainly impressive for first-time visitors to the world of virtual reality. But for the more experienced in either VR or theme park rides, the rather loose coordination between real-world motion and panoramic video views curbed the enthusiasm pretty soon. The panoramic videos used camera transitions like in a normal film disturbing continuous presence. The camera views were taken aside or above of the video actors rendering it difficult to make up a consistent role orientation for the viewer. The restricted field of view with black bars at both sides of the headset viewing frustum quenched the viewing experience into a 4:3 screen impression instead of a complete surround view. The cue setting for connecting the headset views with the platform motions was only partly accurate, interrupting the flow of the experience from one moment to another. I tried the kayak experience and the roller coaster ride, both combining panoramic views on specifically designed platforms: the overall experience was something in between a screened ride, an old school television put in front of my eyes and jump-cutting movie experience with a lot of rumbling and body shaking. For some moments the experience became real, just to fall apart a short moment after. I have some trouble to call this type of incomplete experience shaking a virtual reality application for real. But Samsung's attraction design for promoting their newest gear most probably fulfilled its purpose during the trade show days, at least.
This impression was even reconfirmed at the Gear VR desk in the Samsung Hall. You could try out the headset in the everyday mode without sophisticated motion platform enhancements. I switched on an EVE space shooter game, got very impressed by the first moments of immersion despite the narrow viewing frustum with the sidebars, but after a few moments of fun I realized that I was actually playing an old fashioned sidescroller with some depth layers in the background on an old TV screen put in front of my eyes while tapping my head front like crazy for the shooting buttons placed on the headset. This must have been a very funny experience for someone observing me from outside, for me inside it was a short moment of thrill followed by a long and descending curve of disappointment. If this is the best Mobile VR can do for the moment, I would opt out of the experience very soon.
There were many more smartphone holders to be tested in the other halls, most of them fell behind the Samsung standards. Some products could achieve improvements for special components like the new Zeiss VR One Plus edition did with the set of lenses. Some others tried to move from braces to racks for head adjustment, but I had problems balancing this type of apparatus while turning my head around.
Two presentations were striking out of the masses of Gear clones and holder variations: Universe2go is a pocket planetarium where an original smartphone holder facilitates watching the stars by means of a celestial map app. This unique holder built around the content app and only serves for this special content purpose. The concept reminds a periscope for star watchers. In this case idea, content and framework match perfectly to offer a unique and purposeful experience. Apart from panoramic videos and stereoscopic photos, this type of specialized viewers constructed around single apps could point to promising perspectives for mobile headsets.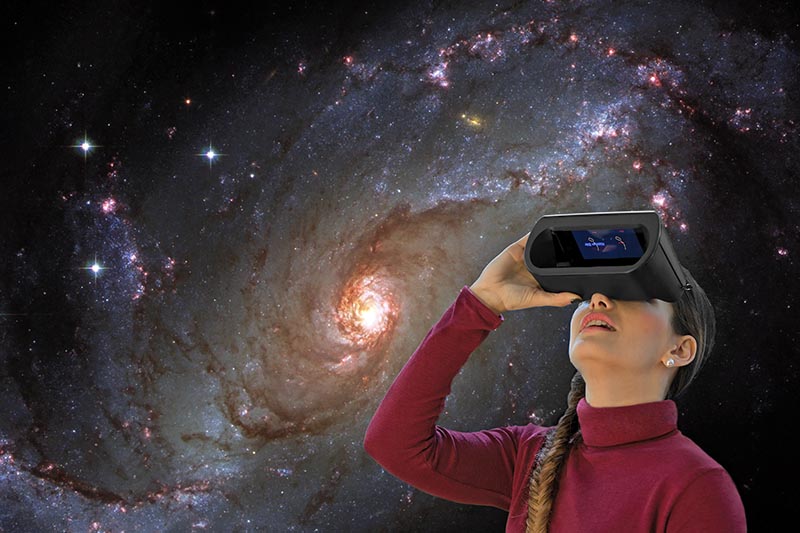 The other show stopper was an equally unique design coming from China: the DlodloV1 headset is not a headset anymore, it is video glasses reminding the design of last century's pilot glasses. As a product it is unfinished, yet – the temples could not fix the balance for consisting viewing experience, the glasses were sitting only loosely on my nose and the small screens could not provide a wide field of view. But as a proof of concept, the DlodloV1 clearly paves the way to everyday video glasses where you do not need a smartphone anymore. It is a little early to speculate on this product's market impact, but it may well become the pilot glasses of our century someday, evolving from video glasses to Augmented Reality specs.
Home Entertainment VR: showing up for a showdown
In comparison to Gamescom, the appearance of desktop and console VR for home entertainment was taken back a little bit in Berlin: HTC Vive was not even present for the whole show and went away right after opening day. Oculus parked a big truck near the convention hall, on the margin of the fairground. They had three systems running inside with very basic examples from Oculus Home: a collection of VR videos, the 'Henry' animation movie and Crytek's 'The Climb' for gamepad controls.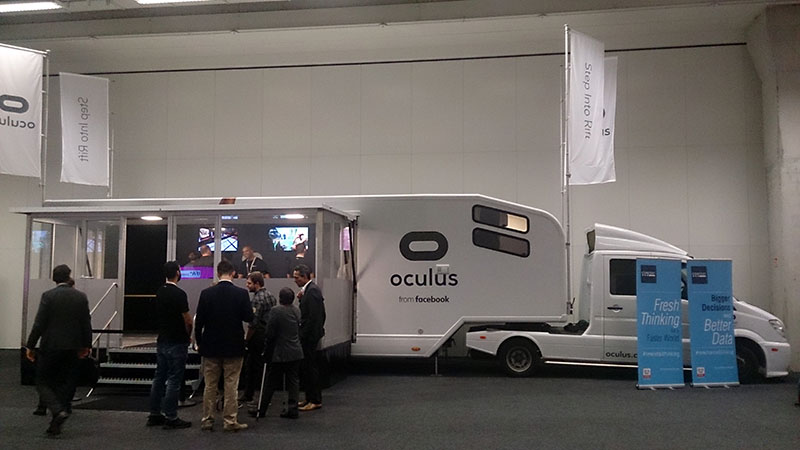 Only Sony provided some promotion engagement by pointing to the upcoming PlayStation VR release during their press conference and by setting up a handful of systems in their main hall. In contrast to Gamescom, they focused more on family entertainment for the living room at IFA than on the core gaming audience. PlayStation VR could be experienced with a lineup of VR demos coming with the headset bundles in Europe. VR Playroom was presented in living room installations; four more demos could be played in standing or sitting mode in special booths with gamepads or Move controllers: Headmaster is a headed goal training simulator, Wayward Sky is an adventure game switching between first and third-person views, TumblerVR is a headset adaptation of the 3D Move controller puzzle game, and RIGS is a robot arena multiplayer shooter.
All main players of VR home entertainment took a more casual approach to reach the general audiences in Berlin. They were nearly playing down the hype in comparison to Gamescom efforts and VR media coverage, trying to present more product varieties than gadgets for unspecified everyday consumers. And they played it safe on the content side, sticking with demo packages and standard controls; no innovations could be noted here. This cautious approach could only be explained by making IFA just another stop of their ongoing promotion roadshows without extra efforts, and by some uncertainty in approaching the average everyday consumer market at this early stage of VR.
IFA+ Summit: showing spirit and promise
Some of this uncertainty in VR market strategy could be pointed out and exposed for discussion with the lectures and panels at the IFA congress. A highly interesting presentation on market research for VR struck out Germany as the most important market in Europe and one of the world's leading market segments. Their consumer data analysis gave excellent information on consumer expectations for price ranges, content offers and usability in contrast to the actual starting conditions of the industry.
Lectures related to VR presented concepts and first-hand experiences of scientists and journalists, applying simulation technologies for more empathetic documentaries and insightful world reconstructions. A high-quality panel of industry players and experts helped to understand the actual situation on the producer side of the topic: the lack of standards and success models in this beginning state of headset distribution, the prudence of big production houses to enter the market, leaving the momentum of activity to small developers, the fundamental differences in photo-oriented Mobile VR and interaction-oriented VR games, the search for effective optimization of established media coverage by making use of VR technologies on the production side and for marketing enhancement, and the consistent agreement that we can expect to see more original VR content adaptations 6 to 12 months from now when the first wave of premium headsets will have rolled out and bigger producers enter the field.
Mixed feelings with Mixed Realities
The panoramic overview of VR activities at this year's IFA was overwhelming and highly informative. Obviously, VR is showing up in many segments of the electronic consumer markets in various flavours and manifestations. IFA preferred to use the term 'Mixed Realities' to encapsulate these splintered and highly dynamic parallel activities on so many levels. These 'Mixed Realities' left me with mixed feelings for future developments: astonishment for local-based marketing attractions, scepticism for the diverging worlds and limitations of mobile and home entertainment, the expectation for this year's successful product roll-outs and hope for better content innovations at next year's show.