The annual conference on computer graphics SIGGRAPH had to go online in 2020 and mastered the challenge by offering an expanded edition with many insights, inspirations and imaginations on a well organized digital content hub. All established program channels of the real world show were represented by their digital twin section online. A great deal of the programs could be watched on-demand, either before or after the main show event. The main part of the show presented lectures, live panels and Q&A sessions for one week. Attendees could therefore prepare on-demand, meet and discuss during the live sessions and then dive deeper into the subjects afterwards on demand again. The stretching of the program allowed for dedication to details, while the live programming maintained the event character for the gathering of the graphics community.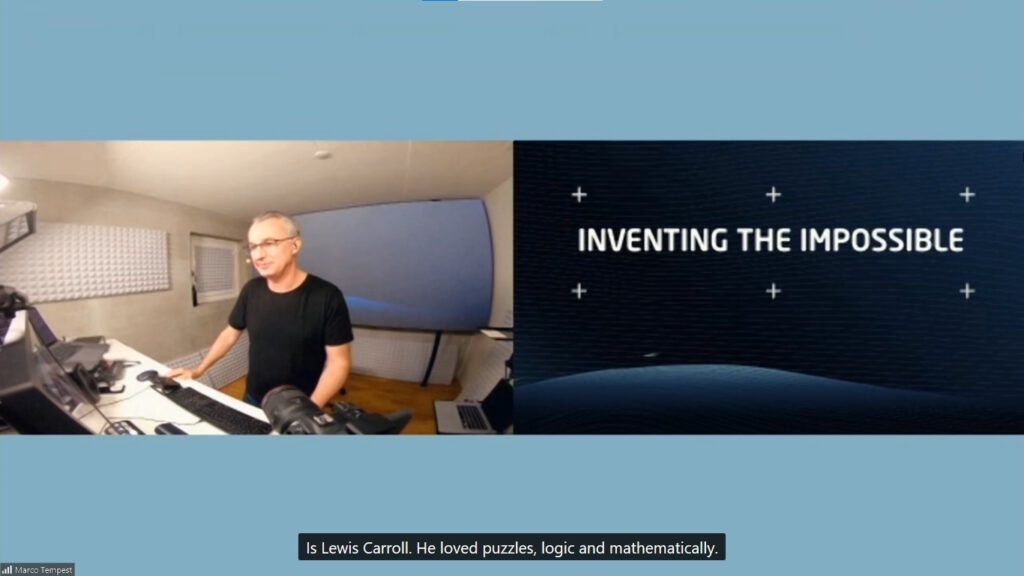 Techno magician Marco Tempest set the tone of the show with his opening keynote at the intersection of media technology and magic. Best known for his illusions on smartphone displays, he now broadcasted in front of a virtual studio screen and performed his tricks with innovative technology features like drones, deep fakes and gesture recognition.
At its core SIGGRAPH is a platform for academic exchange, and most of the research sections and technical papers could be presented online without loss of information. Film, animation and advertisement sections could go along with video presentations and panel discussions. The famous Electronic Theater streamed several hours of fabulous computeranimations into the homes of the attendees. Hottest topic in virtual production was the integration of game engine rendered realtime graphics into live-action film sets for The Mandalorian TV series.
More installation-related sections like Immersive Pavillion, VR Theater or Media Arts had a more difficult time to broadcast their works, which had to be experienced on-site for better understanding. Wherever possible SIGGRAPH offered links and downloadable demos to make these works more palpable for the community. A VR game world for viewing downloadable artworks in your headset served as a simulation platform for theatre shows.
Haptics and Locomotion are busy fields for research, development and testing in the domain of VR. Some installations offered a whole range of haptic interfaces to intensify immersion for Arcade and simulation experiences. Some added sensual layers to the experiences for temperatures and force feedback. A test screening compared glove and hand controller interactions and came up with very interesting results – controllers were perceived in a more practical, gloves in a more intuitive way by the users. Another test screening presented valuable research data for better balance while walking in VR, making it more accessible for elder users.
Spatial experiences and cooperation were restricted the most by pandemic conditions, and they cannot be replaced by video streams. Therefore, exchanges on remote working infrastructures were in high demand. While the film industry already set up digital pipelines for post production, Intel showcased a virtual studio for live-action shooting with photogrammetry scans based on a dataflow of 270 GB/s. Amazing, how much effort still goes into a 20th century media framework! More comprehensive interactive industries still have to find viable solutions for their demands. Research facilities presented VR collaboration tools for spatial interactions in realtime based on cloud rendering as a possible way to go.
Besides scientific exchange and creative industry business SIGGRAPH is above all a meeting space for a vital community. The organizers tried their best to overcome the networking weakness of virtual conventions. They came up with very enjoyable propostions in social VR: you could participate in virtual group activities with your headset in your home – go on a mission with your co-workers in a live hosted VR game show; sit at an extraterrestrial bar table with other avatar robots for a live chat; play trivia on the screen together. Gamification helped the SIGGRAPH community to think beyond 2020!