The initially rather slow adoption of VR in consumer markets urges producers to find alternative playgrounds and application fields for their VR developments. Especially in Germany, investors and VR start-ups go now for B2B and industrial markets, hoping to find a more predictable and secured environment for their ventures.
The expected security is mostly associated with public funding along with the digitization of 'Industrie 4.0'. In the logic of this Great Game, immersive media developments are an evolutionary add-on to traditional industries instead of being taken seriously as completely new production structures on their own.
The question is if the new wave of immersive consumer hardware can find security in an industrial application area with highly specialized demands, where VR already had been established three decades ago.
Applied Interactive Technologies at Gamesweek
This year's Berlin Gamesweek offered an interesting crossover between playful and serious games at HTW's APITs Day, a workshop in the framework of European research funding to create a competence center for Applied Interactive Technologies, called APITs.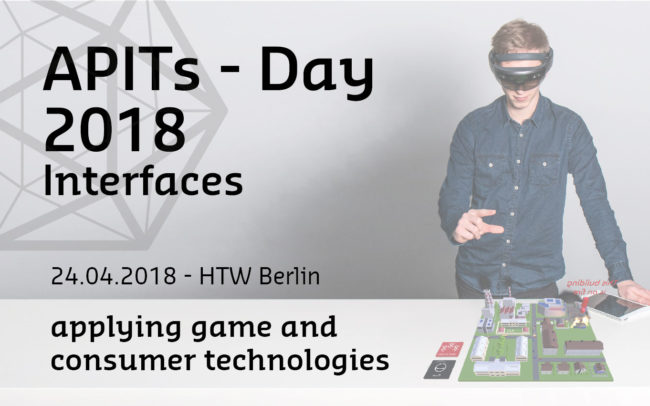 The idea is great, the outlook is great, the co-existence of the game industry and the traditional industry is great, the playground is great – only creativity is not so great: creative APITs need to be written in minuscules as cAPITs, just to be safe.
APITs Day offered lectures, demos and example projects in the framework of the research project at HTW. Knowing the school's proved competence in VR and serious games, I first was a little disappointed to only see two example projects: one in VR, the other in AR. But then I realized that this was a great opportunity to go into detail with the participants, and I appreciated the insights very much.
cAPITs call for more
The VR installation was a virtual museum with teleportation features in HTC Vive. As HTW is well known for its archaeological education departments, this may become a platform for an interesting connection to real digs and archaeological findings. At the moment, you can only walk through example spaces in a virtual museum environment. The digitization of traditional museums smells like 1990s spirit for today's consumer VR. In more creative segments of Berlin Gamesweek digitization itself already enters the stage of conservation, see here.
The AR installation was a small Hololens application, where virtual information overlays gave instructions to exchange a real battery in a wall-mounted junction box. Again, the set up was not very sophisticated, but this time the basic construction provided many insights for AR applications: as the manual instructions in the Hololens followed the activities in the real world, any part of the installation had to be prepared to communicate its current state to the immersive headset, every switch and every tiny screw.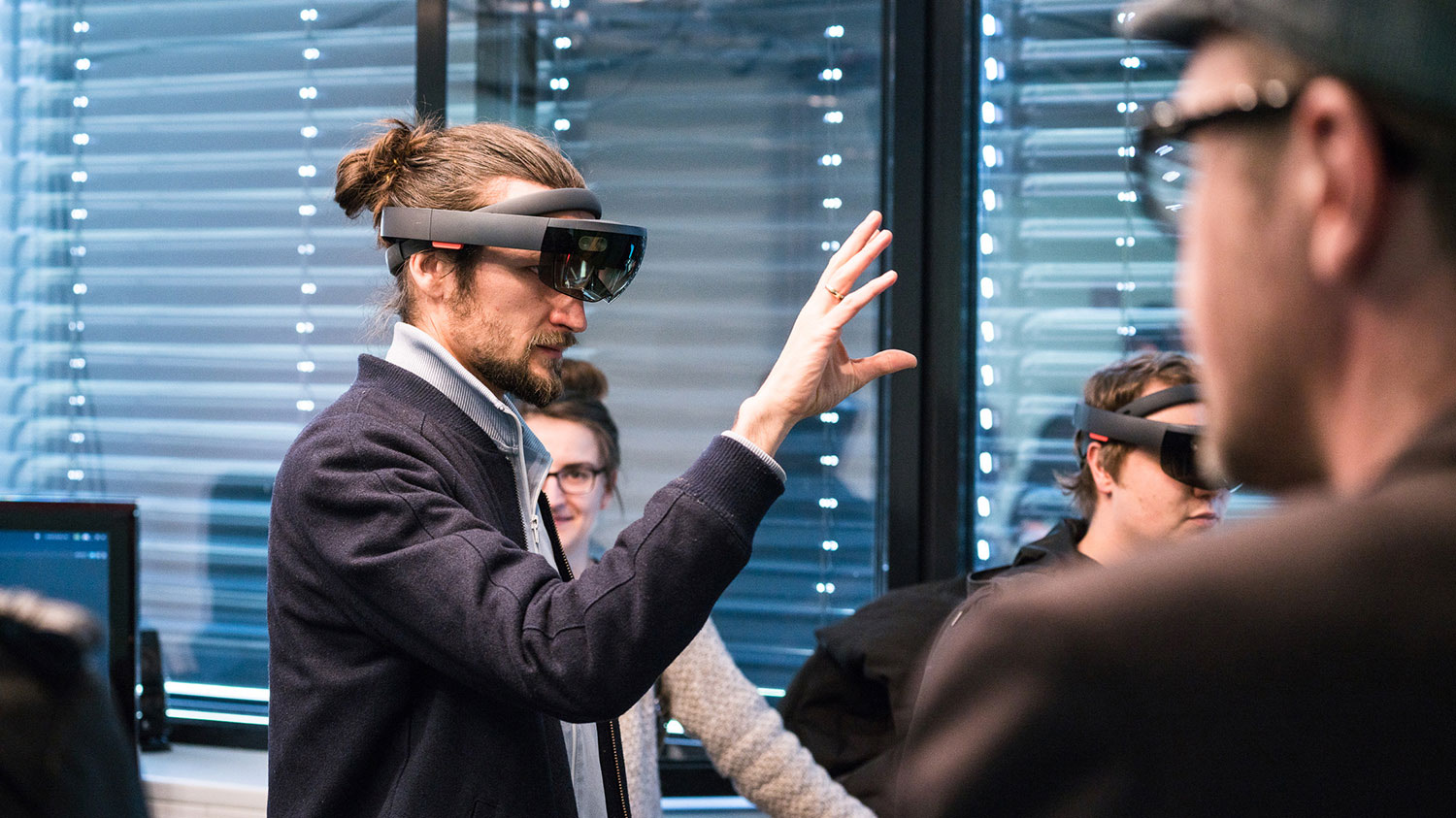 Up to now, I was looking at AR and Hololens mostly from the perspective of a designer in terms of information overlays and UI design patterns. But after the experience of turning some screws on a little junction box and, most importantly, after the discussions with the students on-site, I realized there are much more layers in this little sandbox experiment. My tiny battery exchange with a little help from AR suddenly provoked some thinking on infrastructure. It's not about information design alone or immersion, nor is it all done with the exchange of an energy source. It's about the need for sensors all over the reality of things and a complete transformation of common infrastructures – just like in the safe haven of kick-starting e-mobility.

A safe bet on top C
There are lots of things to do for the augmented responsive environment of IoT, and there is certainly a high demand for advice on simulation strategies in this vision. APITs Day is a great opportunity to have a look through AR into the industry of things.
VR is a different use case. For VR, industrial applications turned out to be a secured business field in the 1990s. It remains to be seen if the current headset technology is a safe bet in an application field where simulations for highly specialized demands are custom-made. The decisive battles of present-day VR take place on a playing field where applications are based on the top C, written with a capital letter – for consumers, and for Creativity.