My report on this year's activities at Gamesweek Berlin will be rather short. While the festival provided interesting VR experiences on several platforms for the last three years, the 2018 edition was disappointing in terms of VR. With the glorious exception of the amazing A MAZE indie art show, all other event channels of Berlin Gamesweek 2018 were either completely ignoring or vastly underperforming the subject of Virtual Reality. It remains to be seen if this is an indicator for sinking interest in immersive media developments on a general level, or if Berlin is just missing the boat on a local one.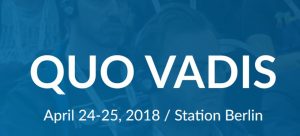 Quo Vadis goes nowhere in VR
One of Germany's biggest and most significant professional conferences on game development did not even offer one single talk on the topic of VR during its 2 days program. And the show floor kept the same amount of VR presence, at least on a professional level. There were a couple of students' projects with VR, most of them had been already presented at last year's conference. VR appears to be useful for giving educational institutions a more innovative appearance. But the professional relevance of this newly established gaming segment dropped to a ground level of zero at this year's Quo Vadis.
APITs Day cannot step up (yet)
Serious Games come into focus now at Gamesweek Berlin with an additional event in the framework of European research funding to create a competence center for Applied Interactive Technologies, called APITs. HTW organized a workshop on APITs Day with local lectures, regional funding and two example applications. The first one was a virtual museum on HTC Vive, the second a simplified Hololens scenario for AR-enhanced manual instructions. Both examples do not really thrill experienced VR designers, but the rather personal exchange during the workshop allowed for some insights that I summarized in an extra report here.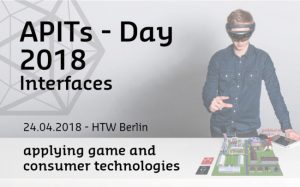 In the context of Berlin Gamesweek, the perspective of setting up a channel for serious games is really promising. Unfortunately, APITs Day could only present rather shy beginnings of a complicated European research scenario in a secluded city border area. Due to its funding conditions, the event did not manage to present the full potential of HTW's already existing competencies in VR. There is great potential for a future transfer platform between game mechanics and serious industrial applications. For now, two very basic student projects are not significant enough to make this happening, yet.
Virtual Unreality at Gamesweek events
The Gamesfest had two VR productions in their broad presentation portfolio of playable games: a futuristic racing simulation, already presented at last year's Gamescom, and a cooperative space adventure, also presented at last year's Quo Vadis show floor.
Other satellite events during Gamesweek did not care about VR at all: the German Esports Summit obviously ignored the physical aspects of VR which could come into play to promote games as sports competitions. And Unreal Fest Europe, the annual developer conference of the Unreal game engine, did not have an eye on VR during its three-day conference program. It remains to be seen how competitor Unity will tackle VR at their European developer conference Unite, also taking place this summer in Berlin.
Devolution of VR at A MAZE
In contrast to all other activities during Berlin Gamesweek, VR was still very present at the A MAZE festival, so that I dedicated a separate report on it here.
In the basement of the Urban Spree Area where the indie festival took place, you could visit an exposition documenting the making of the highly successful indie game Superhot. The exposition takes you from the original game jam experiments through a variety of builds and promotion stages to the final production and release of the game, including an additional edition of the game made for VR. The game designers were present and guided you through their pains and gains with enormous enthusiasm and motivation. Superhot is an outstanding example for a game making a success in both worlds, the traditional gaming platforms and VR, and it turned to be profitable in both worlds as well.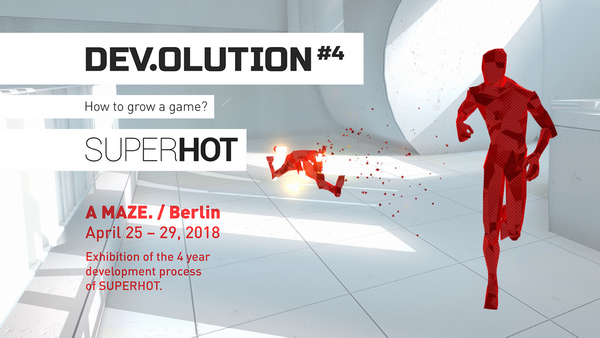 So, at this year's Gamesweek in Berlin, you needed to step down into the underground vault to find some motivation and inspiration for future VR developments. Here was a missing link between artful creation and business success story that could not be seen at all the other events on the surface. Regarding VR, they were either ignorant or still immature, or they simply did not take into account this place for setting up new business opportunities.
While 'Ready Player One' successfully runs in cinemas all over the world, while the VR industry brought down costs for upcoming standalone hardware to the critical price point of $200 for broader VR adoption, while professional equipment gets more sophisticated with wireless Vive Pro editions, while the gaming industry set up parallel production pipelines for VR and non-VR games, while the whole market adoption of consumer VR is in the making, while the uncertainty of an emerging market offers so many chances besides all the risks, Berlin Gamesweek seems to be gung-ho about the even greater risk of missing all of these boats.