For the 10th edition of Indie game festival A MAZE, the event now took the center stage of Berlin Gamesweek 2018. Celebrating its first decade of experimental game development activities, the show continues to strike out as the festival's most vibrant and dynamic platform. And it now remains the only showcase where VR rises and shines.
Shining a light on Gaming VR
The Indie show is a great place to discover VR potentials for the gaming industry as well as for more experimental art installations. Gaming VR focuses more on standard game controls and tries to expand gaming experiences into the realm of VR. These presentations address an experienced gaming audience, but they are limited by their control standards.
VRMan is a good example of this approach to VR. The game provides you with a little superhero puppet which you can manipulate by buttons on the motion controls. You can throw the puppet or trigger special effects to achieve points and bonuses on your teleported journey through an abstract 360° level design. The game expands mechanical remote control into immersive challenges. But it stays a 3rd person game, intensifying the gaming complexity by reducing the puppet master's physical presence in VR to predefined mechanics.
Shining out VR potentials
In contrast to VR gaming experiences, art installations do not need to consider industrial control standards and can therefore focus more on the media's very own potentials in physical presence and more organic environments.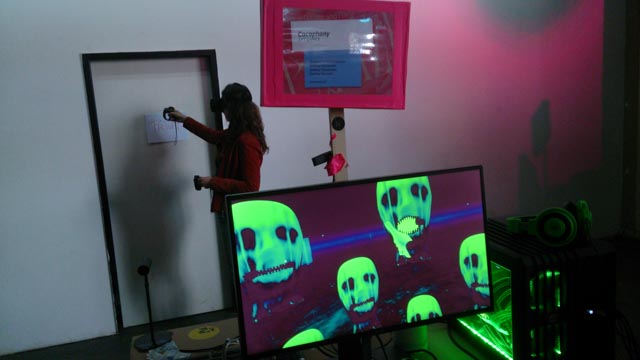 Cacophony is an outstanding example of this approach to VR. The installation simplifies controls for grabbing an object. You are surrounded by floating masks with zippered mouths. By unzipping their mouths, the masks begin to make a sound. You can now compose a chorus by zipping or unzipping any of the surrounding masks, where each individual sound volume depends on your zipping movement. The result is a stunning experience of an ambiguous meaningful composition of chant and grievance, floating around you, responding to you – a spooky and obedient company to your self-awareness in a highly symbolical but entirely palpable locked-in existence.
Shining through the fog formation
Most of the other VR works at the show were moving between those two extreme poles. MOR, a Museum of Other Realities, presented sculptures in VR, mostly made with creative tools like Tiltbrush or Medium. The concept of a museum positions the work in an art environment, but it would have been more interesting to experience the creative process in VR instead of only showing the resulting leftovers.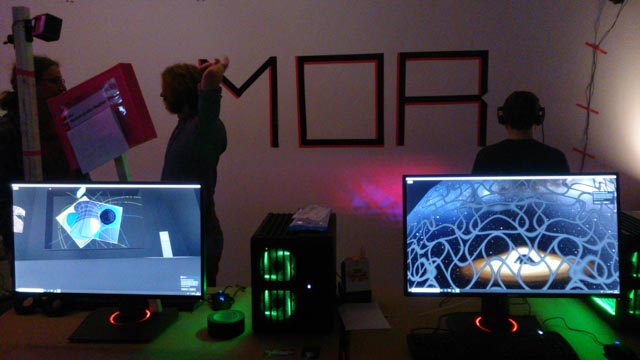 Another Museum of Symmetry merged 2D toons with 3D environments for a surreal cinematic journey through animated worlds, translating film structures like parallel montage into spatial experiences of parallel teleporting. You could go even more surreal in Spoons, an escape room game with a twist, beautifully made with very original characters and rooms in bold colour design. And the well known super-surreal mocking game Accounting could be experienced in a plus-version for PlayStation VR with Move controls.
All mentioned works strongly referred to existing gaming standards and established concepts, either varying design and meaning or simply making fun of them. It looks like even very experimental indie productions have difficulties in finding new territories. They all remain in the framework of well-known game categories. The gaming world seems to be caught in its own limited traditions for approaching the vast area of opportunities in VR.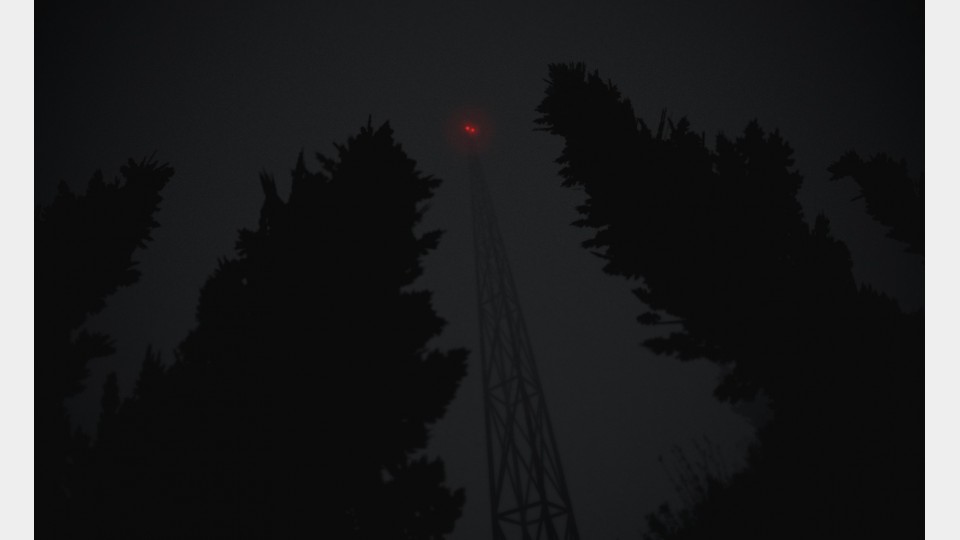 This became obvious with a rather large installation in the basement of the Urban Spree area. Homescape offered a very atmospheric walking simulator through a foggy and mysterious landscape, an excellent showcase for photo-realistic graphic qualities of VR. The experience was transcended by personal documents and real objects provided by the artist to charge the virtual experience with biographical and political meaning. Nevertheless, the experience itself stays one of those many walking simulators you can choose from on Steam or on any other gaming platform. The personal touch certainly adds to the well-established category of walking simulators but does not step out of it. Even independent game developers are dependent on gaming standards, apparently.
Taking a shine to something completely different
Fortunately, A MAZE also has a heart for outliers on solitary tracks. You can always find some of these rare birds at the show, who do not care about well-trodden pathways in search of something different. And they make the show shine in the brightest light!
This time you could treat yourself a dentist cure in VR – in a sort of wearable installation called Ghost Dentist VR. You put on a 'jawvibe' around your lower jaw providing you with the feedback of your own actions in VR, while you are operating yourself in a cartoony dentist surgery. This VR Surgeon Simulator gets virtually serious with its own player!
Or you could confuse yourself with a doubled camera view in a Gear VR, where the expected AR look-through perspective is overlapped by images coming from the second webcam in your hand. You won't find reality very complex any more after getting back from this experience!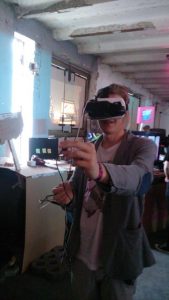 Amazing Gamesweek takes out the shine

In the context of Berlin Gamesweek, A MAZE now boldly shines as the outstanding main event, an ironical evolution for an independent art event with humble beginnings. But this also means that Berlin continues to struggle with the economically more relevant gaming segments in the industry. The city is lagging behind playfully, and catching up in a more traditional way. Here, even the brave new world of Virtual Reality is approached too often in well-trodden ways.