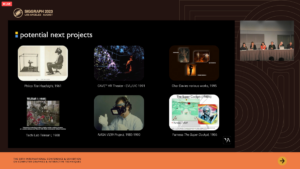 The 50th edition of the annual SIGGRAPH show took place in Los Angeles. Alongside the usual theme tracks on computer graphics, visual computing, immersion, and media automation, this year's event commemorated five decades of CGI history. A timeline showcasing the developments in visual computing was set up in a walkable time tunnel installation, which included interactive features related to pattern recognition of visitors' behaviors. The origin of real-time animation and immersive media technology could be relived through a reconstruction of Morton Heilig's Sensorama installation, a multisensory cinematic experience from 1962.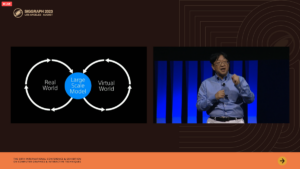 This enduring and highly impressive record of achievements at the intersection of science, art, and technology found common ground in commercial applications within the film industry, particularly in animation and visual effects. This year's conference continued the success story of computer-generated imaging with presentations and showcases of the media industry's latest blockbuster productions through lectures, expositions, and the much-loved Electronic Theater showreel. While SIGGRAPH originally started within the realm of computer science, it now encompasses not only film but also games, immersive media, and theme park attractions.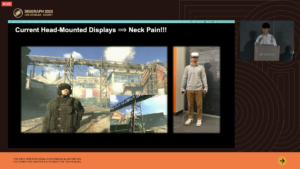 Exchanges on digital film production focused on the latest animation techniques and cooperation pipelines for virtual production. Key trends in immersive media development included user behavior prediction models for comfort design, markerless body tracking, and environmental awareness scanning. Meta showcased two VR prototypes offering upcoming perspectives on immersive headset conception, encompassing component externalization and verifocal lens adjustment. Both concepts appeared to build upon the Sensorama, pushing its development further into visor aspirations.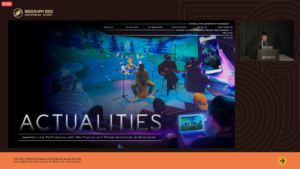 While cinematic tradition was still palpable in hardware proposals and most production discussions, innovative ideas often arose when experimentation diverged from photorealistic application scenarios. The virtual realm is beginning to break free from mirroring reality and is instead forging its own path, opening up innovative spaces – akin to ascending a staircase in the virtual world while walking on flat ground in reality. Another form of emancipation was evident in real-time animation performances, which rivaled the Electronic Theater with live-streaming, audience interactions, and multichannel event distribution.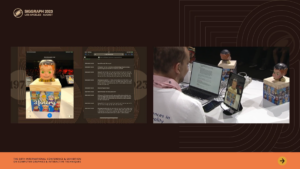 Naturally, AI was an overarching topic in all conference tracks, and the 50th edition of SIGGRAPH concluded the nostalgic gathering with a bold outlook into the future of fully automated media production. AI could then be seen as a facilitator comparable to the impact of the steam engine, as just another tool in the visualization toolbox, or as a flatiron for human imagination.