I usually report on business conventions for virtual reality developments here. But the first quarter of 2020 has seen a lot of cancelled events due to the Coronavirus shut down all over the globe. Major industry events like GDC, E3, Berlin Gamesweek or even Gamescom had to be cancelled, and we do not know yet for how long this cancellation period will last. After shifting quickly to improvised broadcasted video messages for short-termed replacement, we slowly come to terms with this situation, demanding more midterm or longterm solutions for a business exchange on and within VR.
GDC 2020 was one of the first major events that had to be shut down in the beginning of the virus crisis. Oculus filmed some of the lectures already prepared for the GDC stage and broadcasted them on their developer news blog. They mainly promoted best practices for Quest development to encourage developers for switching over from mobile or PC gaming to their AIO VR console that will soon facilitate porting by joining the Open XR framework. And they reconfirmed Facebook's main interest in social VR with some motivation talks. While these videos clearly reflected their original purpose for lecturing on stage, Facebook even had to cancel further main events after GDC replacements. As no one knows for sure when public events will be possible again, Oculus recently announced that the upcoming OC7 conference on VR will be completely virtual. We may even see some activities being switched over to Facebook's social VR platform Horizon which should be launched later this year.
HTC Vive already did this. They quickly reorganized their original GDC program for virtual reenactment on the VR learning platform Engage. You could still feel the original planning when video presentations were now broadcasted in a virtual conference environment in VR while the lecturer performed with an avatar. But they also managed to set up some significant virtual reality effects making this staging a truely outstanding event – for example, when a 3D train broke through the 2D video screen into the 3D conference amphitheater, or when a landscape of 3D scultptures came out of the stage to represent opportunities for virtual education programs. The most remarkable virtualization even broke the fourth wall in the virtual conference room, when a 3D model of the Coronavirus slipped out of the 2D video screen and the audience's avatars quickly got dressed in protection suits.
HTC Vive promoted their recently released Cosmos headset series like Oculus featured the Quest. But whereas the promotion of headsets may find alternative realities suitable for getting the message to potential buyers and consumers, the hardware itself seems to be stucked in a bottleneck for production and distribution shutdowns. Most headsets are in short supply now, and the VR market cannot really expand on this level for some time to come.
Sony already shifted their promotion strategy from real world events to internet broadcasting long before the Coronavirus outbreak. Last year, they started regular PlayStation streaming promotions on Youtube in replacement for the company's trade show cancellations. Their latest news on the upcoming PlayStation 5 came in a video lecture originally planned for GDC, without mentioning any particular details for the future of PSVR.
While 2019 has seen a certain rollback of social consumer VR platforms like High Fidelity (now business only), AltSpace (sold to Microsoft for lack of funding) or Sansar (sold for not being profitable), the actual Coronavirus situation seems to provide an uplift for virtual cooperation platforms. First conference replacements this year may have been made in a rush for improvised translations from the real world into the virtual realm, but the demand will grow the longer the virus dominates our business lifes – and with growing demand we can surely expect more refined concepts and platform events in 2020.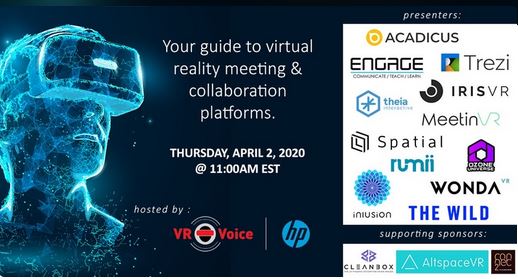 At the moment, video streaming and video conferences are the shortterm solution for home offices and digital business meetings. And watching video streams in a headset may not really sound like the killer app for the VR industry. But a combination of flatscreen media with virtual environments can definitely enhance our online cooperation. There are already plugins available for adding VR to video conferences using Zoom, Team or others. I enjoyed very much an online conference organized by VR Voice on virtual cooperation. They presented live lectures and VR demo videos on the flatscreen for a whole business day. After the convention you could meet all participants, speakers and organizers with their avatars in Altspace VR for a final party. Virus Reality has just begun.