Just before Gamescom opened the showroom with an impressive gala show, the developer conference Devcom and the eSports convention SPOBIS took care of the warm-up. VR was not in the focus of both conferences. But gaming physicality played a decisive role for both event platforms – and made an enormous difference in the double-faced self-conception of the game industry.
Full-body haptics at Devcom
It became obvious, once again, that the game industry still is in the process of translating core development elements from flatgame production to VR platforms. Vertigo Games, one of Europe's leading development studios for VR, gave an overview on this transition and the specifics of working with VR in contrast to flat world designs. And they showed off their works at the Gamescom trade floor later (read more on this here).
But this general experience prep talk was the only lecture focussing on this new gaming platform, stressing the trade-offs between losses in visuals for gains in immersive interactions.
I expected to see more VR on the expo floor with Quest demos on various spots. But there was only one booth with a Rift demo of an entry-level action-adventure in VR. And one single dev was using the newly gained flexibility of AIO headsets by showing around a Magic Leap demo on the fly in whatever free-space corner of the expo area.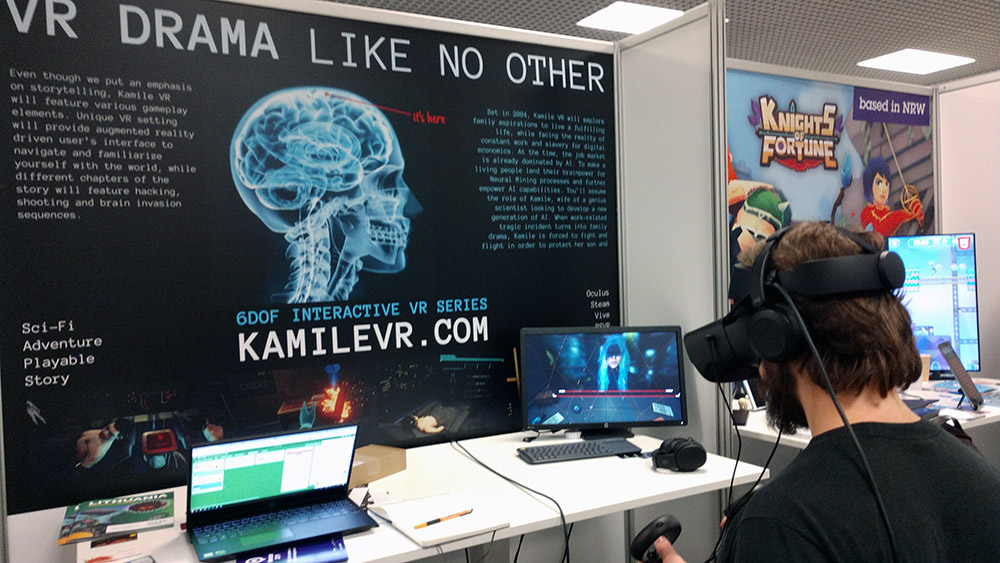 Game industry falls flat – again… All the more fascinating stood out the Crytek booth, where you could literally feel the future of full-body haptics in VR. Cryengine featured a cooperation with Teslasuit and showed a demo application with the Belarusian company.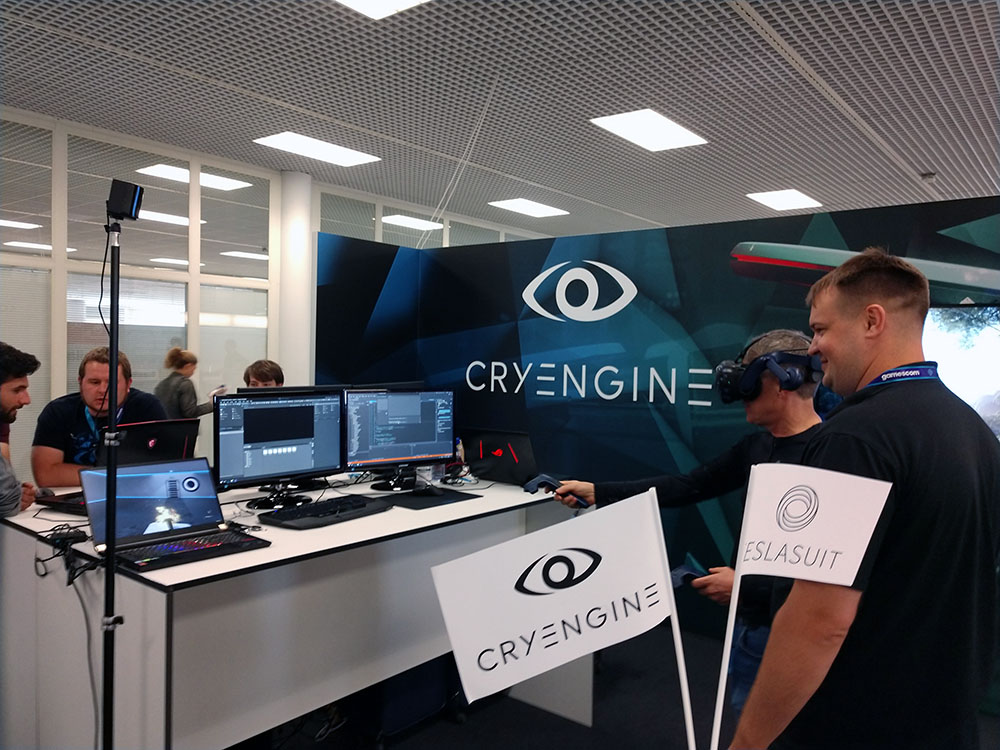 I could try the Teslasuit jacket myself: I felt temperature changes according to the visual environments that I could see under my Vive Pro headset; I combined virtual elements according to their haptic properties; I suffered the recoil in my arm when shooting a virtual gun, and I stood in a stream of pixels simulating stormy rain drops on my virtual skin. The experience of Teslasuit's full-body haptics is very fascinating, being at the same time very natural for direct skin contact and rather artificial for mathematically precise pixellation streams my natural skin could never perceive before. The suit is quite too pricy for the mass market, yet. The company currently aims at training applications. But the next iteration of the suit will be made for LBE centers – and I definitely recommend to go for a ticket as soon as you can!
Null-body tactics at SPOBIS
Parallel eSports convention SPOBIS impressed with a lot of marketing drive, given the highly promising attention rates of current eSport events. The gathering of developers, sports and marketeers was fueled with new economy feelings, prolonging the Millennium turn a long way into our present century.
You could learn a lot about brand strategies and digital event specifications, expecially when market leader Riot Games gave insight into their portfolio of eSport experiences. But eSport still struggles for recognition as a regular sport in a rather traditional and well-defined area of physical activities. SK Gaming tried to make some points stressing the physical aspects of keyboard controlled sport simulations in competitive flatscreen matches. And the team showed highly impressive FIFA moves when demo playing at the Gamescom a few days later! But this way of traditional gaming stays completely attached to remote controls and window perception.
eSports may turn to VR to overcome this physical gap – or go for their own universe of sportive marketing jamborees. In any case, I could not find one single VR app on site, not even a Quest to show the potential for a more physical – and more athlectic – understanding of gaming activities. Go on, eSports – be a good sport!
all images © 2019 Jochen Schmidt (unless otherwise specified)