Another EGX Berlin edition took place this November, following last year's premiere show at the Berlin Station. The show once again offered a well animated platform for promoting the gaming culture for newcomers and fans. Tons of playable game release demos, game industry related panels and lectures, merchandise offerings, meeting points, podcasts and streaming services – EGX rolled out a whole range of activities packed in a dense program for three days.
Highlights of the weekend days were two blockbuster presentations on the EGX live stage. CD Project presented exclusive insights into the current state of their Cyberpunk 2077 game, and Hideo Kojima promoted the upcoming release of his Death Stranding game together with German filmmaker Fatih Akin life on stage.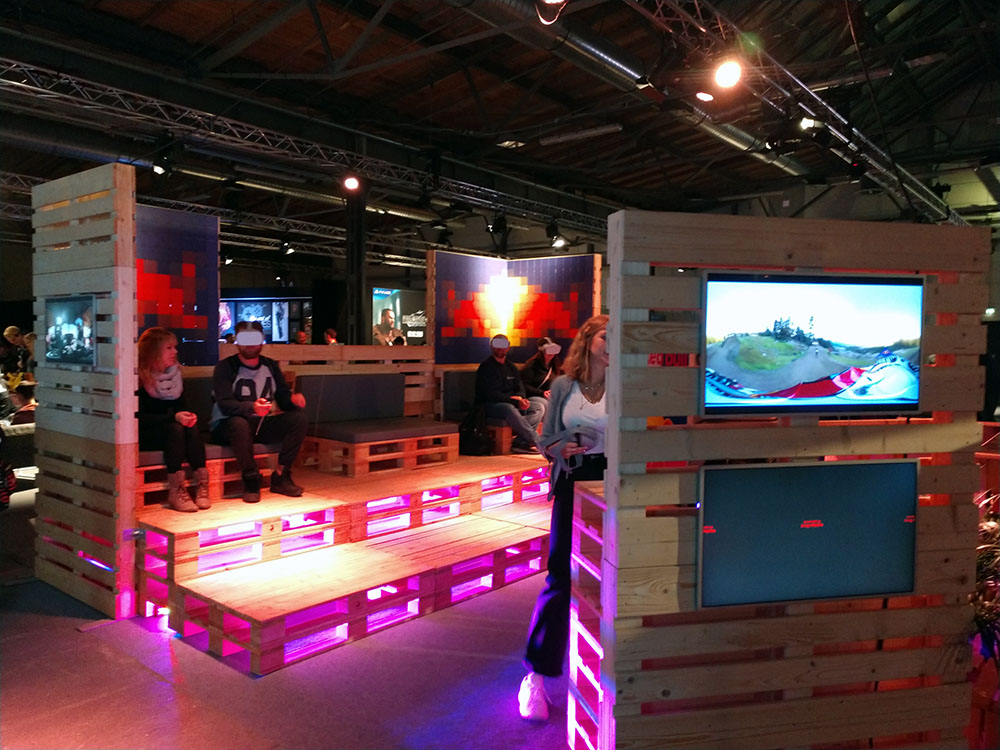 There was considerably less VR gaming to be seen on the show floor compared to last year's show. Sony did not present any PSVR titles this time, as they decided to promote their streaming services for PlayStation Now. There was a cozy sofa installation right in the center of the show floor, where you could watch cinematic VR documentaries on Oculus Go headsets. And I spotted a range of former VR game prototypes among all the demo stations that were only playable in flatscreen versions.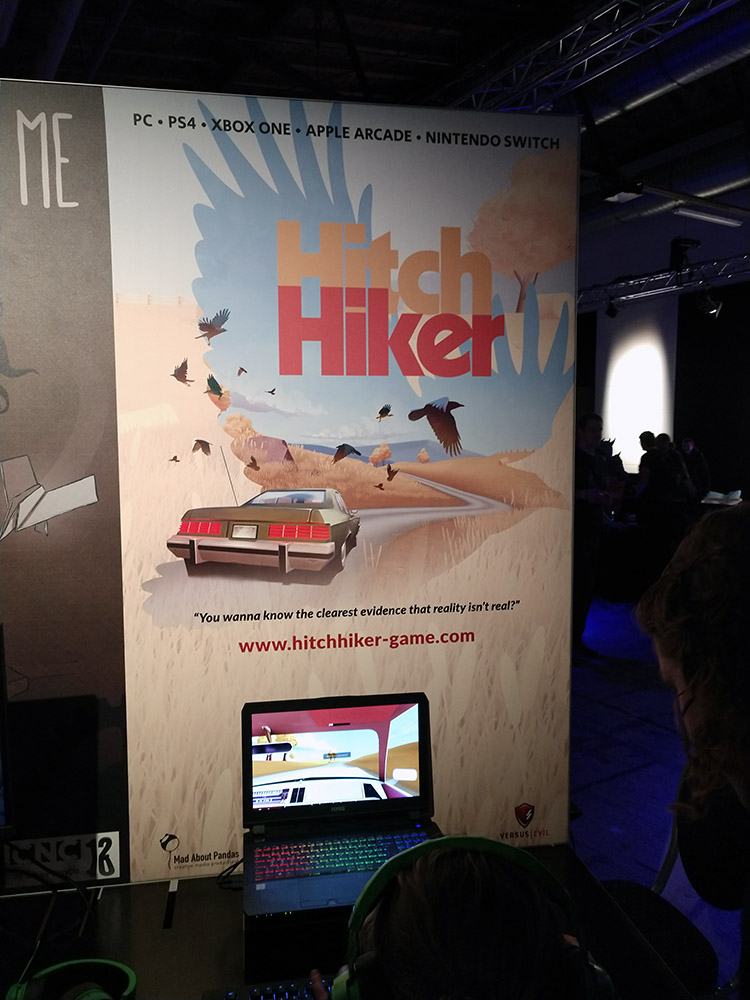 I experienced the Hitchhiker demo some time ago on a Berlin Meetup in an Oculus VR headset. The upcoming release of the final game is now being announced for traditional gaming platforms alone. I played the Social Soccer demo in a mobile VR headset at Cologne's Respawn a few years ago. The upcoming release announcement of the final product did not point to a VR edition anymore (but did not exclude it, neither). And you may remember former Oculus exclusive launch title Lucky's Tale, that now gets a sequel released exclusively on flatscreen platforms.
However, the only truly game VR presentation on the show floor was worth coming to EGX Berlin: Tentacular puts you into the hands of a friendly Octupus who tries to help out with his sticky tentacles on various construction sites. You have to solve physics puzzles in a toy world by using Touch controls in an original and awkward way. The tentacles' rubber-like nature tends to go against your hand intuition – and this results in clumsy and funny coordination challenges. The game shows a mobile game heritage in world design, puzzle mechanics and game flow organization. But the VR development uses key elements of the medium in a playful way, and I really enjoyed knotting together my tentacle hands!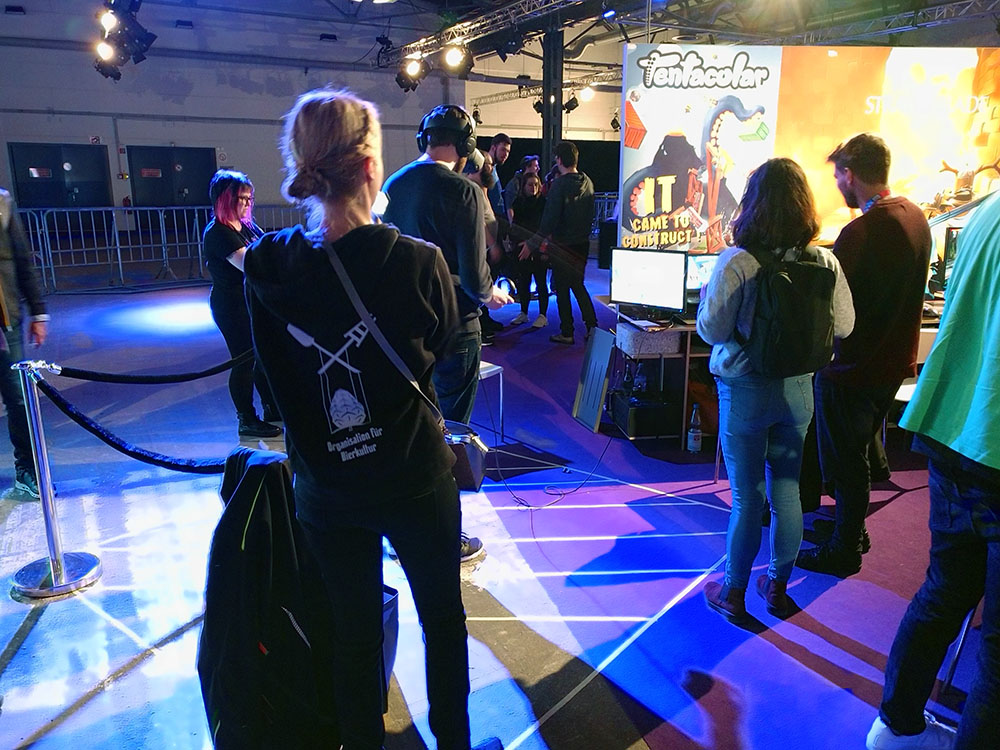 Apart from the highlight presentations and the richly equipped demo feast on the show floor, the lectures and panels gave advice to industry entrants as well as they discussed actual industry trends for experienced professionals. I noticed a certain tendency to look back into gaming history. Maybe because most of the sequel product presentations already have a long tail of IP iterations. Maybe because a new gaming console from veteran console brand Intellivision makes a return for more family friendly casual gaming habits. Maybe because the upcoming distribution channels for streaming services mostly aim to preserve backward compatibility to existing game libraries.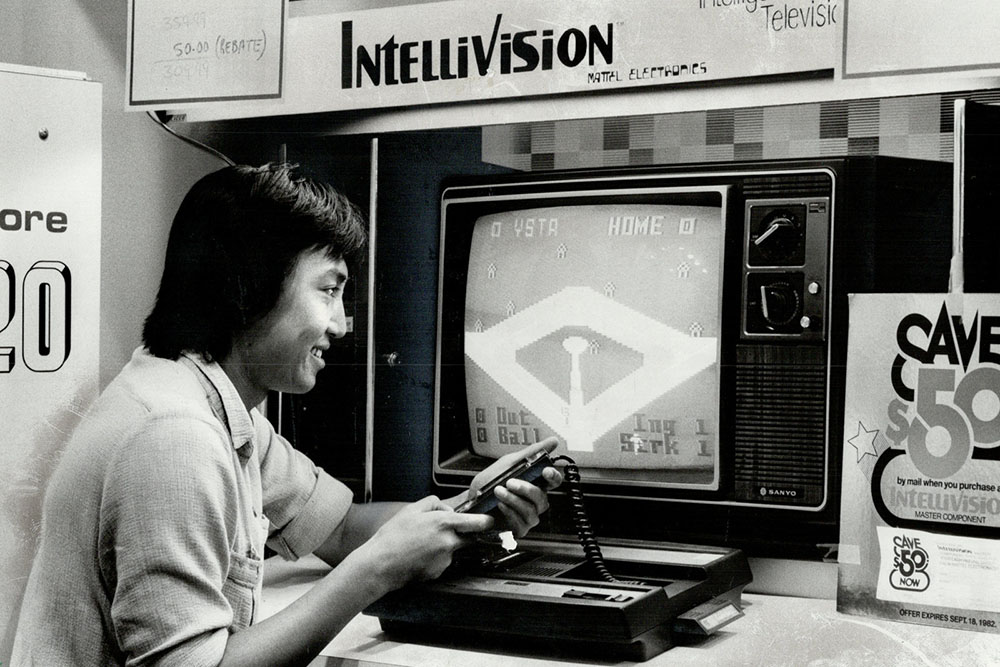 Despite the highly animated atmosphere of gaming celebrations at this year's EGX, the industry seems to have a hard time with evolving from traditional gaming platforms to VR. The failed expectation for mobile VR now results in setbacks for current product strategies. But there is a risk of overlooking the healing part of this disillusionment in ignoring the prospective maturation process of consumer VR: there was not a single Oculus Quest to be seen at this year's EGX in Berlin – not for product marketing, not for development attraction, and – most notably – not for consumer awareness.