VR has established itself as showrunner at Gamescom booths with a general current of multiplayer games on display. But Nvidia took the main event out of the show with a sidelined presentation of a new graphics card generation on its own. Meanwhile, on the show floor, location-based entertainment now competes with home entertainment. This year's Gamescom events played out the question if VR multiplayer games also mean the multiplication of VR relevance in today's game industry.
Multiplayers for multipliers
In sharp contrast to the sidelining of VR at the industry's developer conference DevCom, VR's standing on this year's Gamescom show floor was much more relevant. The major industry players enhanced the attraction value of their demo booths by providing large instalments of VR gaming areas.
Sony even split the show space into equal parts between the flat screen and VR: half of the booth was entirely dedicated to the promotion of their upcoming blockbuster release on PS4, the other half was dedicated to PSVR with three VR games on display. All three VR games expanded former demo experiences to more elaborated product lines and presented the whole range of possibilities with VR on the PlayStation system. Astro Bot Rescue Mission builds upon the first PSVR demo for a gamepad driven jump&run in third person headset perspective. Blood & Truth continues the London Heist PSVR demo and expands the Move controlled action-adventure sequences to a comprehensive storyline, that can stand on its own – as long as the movement is triggered by beaded strings of teleporting events.
Firewall: Zero Hour translates Counter-Strike into VR and builds upon previous PSVR shooter productions like Farpoint and Bravo Team based on the use of the Aim controller. Like most PSVR games, all presented games are made for a more convenient seating mode. But I was surprised how well the optional standing mode worked for the multiplayer experience with the Aim controller.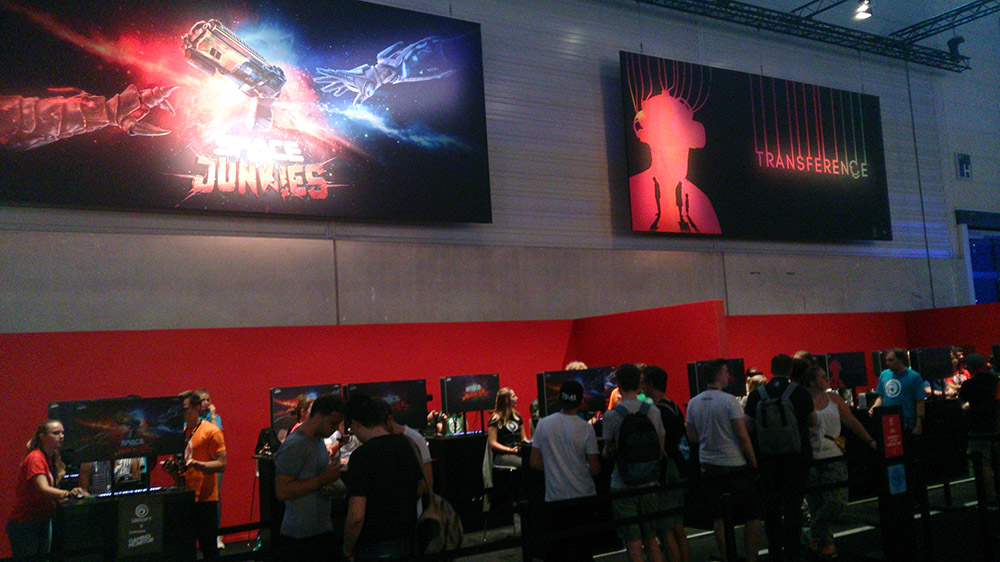 Ubisoft also reserved quite some show space for the presentation of two VR productions: Space Junkies, a VR multiplayer online shooter in the tradition of Quake3D with jetpack dynamics and gesture related weapon mechanics for motion controls; and Telepresence, combining adventure-style gameplay with cinematic storytelling for the exploration of a traumatic childhood experience.
Oculus promoted its actual sales promotion of the CV1 bundled with Touch controls and Marvel Power United VR multiplayer already being available on the market for a little while. The VR pioneer did not set up a booth on its own but played in a corner of a huge Facebook gaming area, reflecting the fully accomplished integration into the internet giant's company structure. There was no new hardware to be seen, not even the actual Go headset was being shown on site.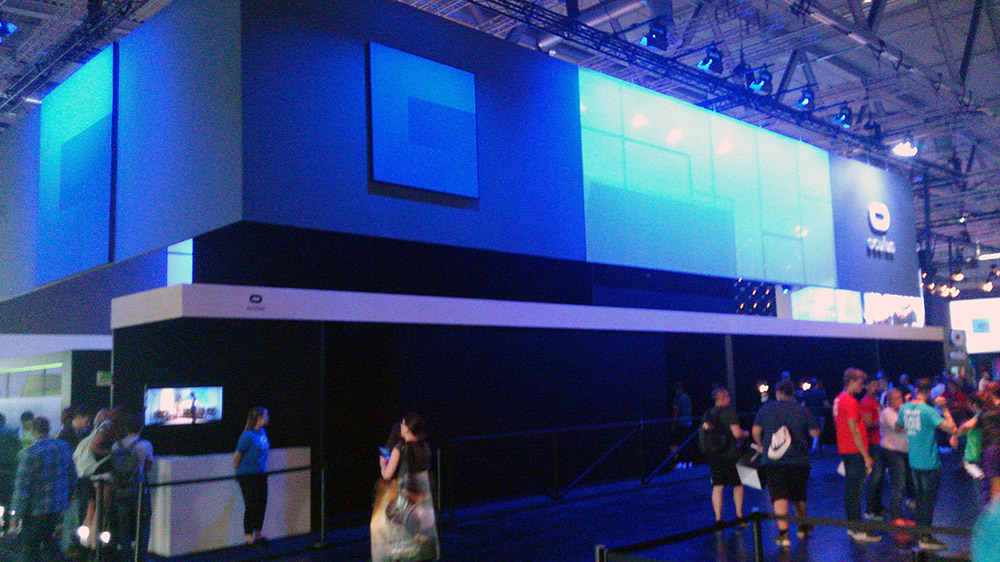 All major players in the field of gaming VR presented at least one major production for online multiplayer activities in VR. I did not see any new concepts or any new hardware trends coming up. Even the indie production area followed more the actual trends of the big players than setting up new incentives for VR adoption. There were some announcements of platform ports of already released productions. A Polish developer presented a VR multiplayer online shooter with the special feature of telefragging by teleporting through the opponents' bodies in addition to traditional gameplay mechanics.
The game industry still tries to play it safe by relying on pre-established gaming modes and pushing VR in the direction of advanced gameplay. Multiplayer games are certainly fun in VR, and they have the potential to expand the audience with group-oriented attractions. But they also rely on continuous social activities, which became quite a problem with social VR and VR online gaming in earlier releases.
Stepping out for coming in
Another trend on the show floor was local based entertainment with VR. Here again, multiplayer formats dominated the content line-up, but this time in local multiplayer versions. The tracking setups in specialized venues allow more flexibility from traditional games and motivate VR related approaches.
HTC Vive showcased an advanced LBE version of Arizona Sunshine with wireless tracking, game styled controller enhancements and the potential of full-body tracking. The installation made quite a difference to the original VR shooter. Moving around in the same physical space with other players without wires, feeling your own body as well as the other players' avatar bodies while coordinating for cooperative game tasks, holding heavy weapons with elaborated props on the controllers, travelling together through virtual spaces using lifts and wagons that cannot be managed by one player alone – all this provided more convincing immersion!
Hologate presented another concept of LBE installations, also based on HTC Vive systems. They set up turnkey systems in 4x4m cube spaces that can be operated with one single person for short term VR experiences on the go, like in shopping malls or cinema venues. Content relies heavily on current trends like Beat Saber and zombie shooter clones. But the installations simplify access to VR as an attraction for new users and reduce management efforts to a bare minimum.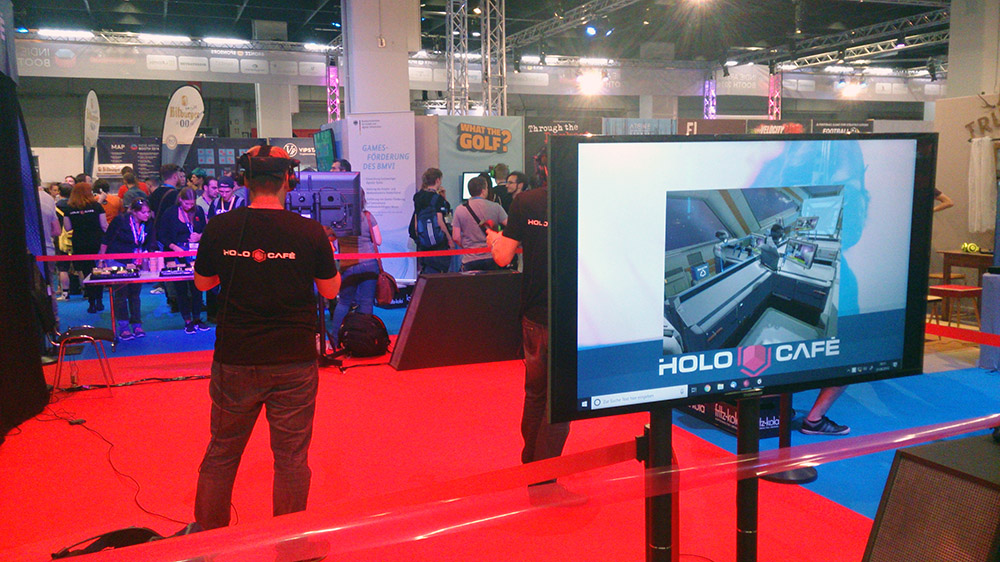 Holocafé also aims at a new audience for first-time VR experiences, but they focus more on a social experience for families with their content. The installations are also using HTC Vive systems and focus on cooperative gameplay scenarios. In contrast to throughput oriented Hologate, this LBE concept offers additional social space for hanging out for a long while inside, outside or around the VR attraction and prepares for regularly returning customers.
Multiplication for the good and the bad

Home entertainment and LBE tackle the challenges of building and deepening a market for VR with similar gameplay concepts and comparable hardware features, actually going strongly for multiplayer experiences. By adopting VR to more traditional gaming habits and pre-established formats, they try to foster their production routines while continuing to bet on the attraction values of the technology itself.
There may come up a race between the platforms pursuing the same pathways on different access levels with the same conceptual understanding of VR as an advanced gaming feature. This race may be fruitful for VR as an interplay between local attraction and continuity at home, or it may turn into mutual interference by offering technology featured sameness on all access levels at the same time.